Job description and responsibility
Key result area(kra) & key performance indicator(kpi)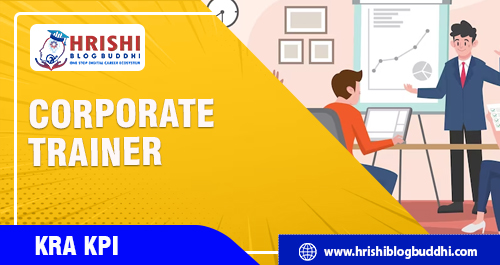 A corporate trainer's job is to teach and guide new skills and knowledge to employees of a corporate organization. Corporate Trainers also known as Technical trainers use seminars, lectures, and team exercises to update employees on company goals and procedures. 
Are you Interested in building a career as a Corporate Trainer?
To build a career in the Corporate sector you need first to understand the Job profile and responsibilities of the Corporate Trainer Career
This blog gives you a clear idea of what becoming a Corporate Trainer in India is like.
A Corporate Trainer needs to communicate with various people during their office time such as the Manager, employees, etc. Effective communication can help you convey information clearly and answer questions without stuttering. Good Communication skills mean they can create and maintain relations.
Active Listening helps the Corporate trainer to understand the problems others are facing more effectively and understand their message. Active listening includes maintaining eye contact, nodding and smiling to show you are engaged in the conversation, and asking questions to clarify what the other person is saying.
Corporate trainers often need to communicate with a group of people and convey information or motivate them. Public Speaking needs a combination of verbal and nonverbal communication skills.
As a corporate trainer, you may be responsible for teaching a variety of topics to your audience such as a new skill, teaching a new language, or teaching a new software program. These require good teaching skills which help convey information to your audience in an engaging and informative way.
The work of a Corporate trainer is to Develop and train employees within the company. They must keep a record of what programs are been undertaken, and may also be tasked with assessing the effectiveness of these programs, as well as creating new ones based on employee feedback or other factors. Corporate trainers must have a deep understanding of the subject matter they're teaching. This means they need to know everything from how to present information in an engaging way to how individual employees learn best.
Job Role & Responsibilities
After 10th

After 12th

Graduation

Post Graduation,

The candidate must have appeared in 10 from any recognized educational board.

The Candidate then has to appear for the HSC exam from a recognized board

Interested candidates can undertake a bachelor's degree to further their career.

The candidates can also, pursue a master's degree so that they can have better career opportunities. 

The candidate should try to gain at least a minimum of 50-60% marks.

They should try to gain at least a minimum of 50-60% marks. Then, only they will become eligible for the bachelor's course

Bachelor's degree in business

Bachelor's degree in HR

Bachelor's degree in Finance

They can pursue a Master's Degree, which can be up to 2 years

OR Students can undertake a Diploma program after the 10th class.

 

After Graduation, the student can either search for a Job or go for a Master's Degree

The Candidate must have at least 1 to 2 years of Experience in the sector at a starting position to get a high-paying and good position in a reputed organization.
| | |
| --- | --- |
| Colleges | Location |
| School of Business, University of Petroleum and Energy Studies,  | Dehradun |
| MSU Baroda – Maharaja Sayajirao University of Baroda | Gujrat |
| XLRI Jamshedpur – XLRI-Xavier School of Management | Jamshedpur |
| IGNOU Delhi – Indira Gandhi National Open University | Delhi |
| JMI New Delhi – Jamia Millia Islamia | New Delhi |
| | |
| --- | --- |
| Colleges | Location |
| GNIMS Mumbai – Guru Nanak Institute of Management Studies | Mumbai |
| ITM Navi Mumbai – ITM Business School | Mumbai |
| Welingkar Mumbai – Prin LN Welingkar Institute of Management Development and Research | Mumbai |
| DYPUSM Mumbai – School of Management Dr. DY Patil University | Mumbai |
| JBIMS Mumbai – Jamnalal Bajaj Institute of Management Studies | Mumbai |
| | |
| --- | --- |
| Career | Description  |
| Human Resource Manager: | They are responsible for Planning, coordinating, and supervising the employment of new employees are the responsibilities of HR managers. In addition to acting as a liaison between management and staff, they advise business executives on strategic planning. |
| Training Manager: | Training managers are specialists who help businesses by developing, facilitating, and supervising training programs for employees. They assess the needs of a business, implement training and development plans, and facilitate a wide variety of training programs that enhance the effectiveness of the workforce. |
| Training and Development Specialist: | There are many tasks that Training and development specialists typically have to do. This includes assessing training needs using surveys, interviews with employees, or consultations with managers or instructors. |
| Training Consultant: | Training consultants develop and optimize organizations' staff development and training programs. They evaluate existing training programs, align training programs with business objectives, and facilitate learning opportunities for various audiences. |
Conducting training: They are required to conduct training with the employees and help them learn.

Maintaining training material: they have to Maintain a proper library of training Materials such as Videos, Files, etc.

Developing Programs: They have to Prepare hard copy training materials such as module summaries, videos, and presentations.
Key Performance Indicator
Engagement Score: They are required to help the employees grow and with good work they can boost employee engagement. 

Productivity Over Time: One metric could be time spent on tasks, which can be tracked with employee time-tracking software. These scores are then used to assess the manager and compare it against other managers in the same department.

Feedback: The Best way to measure work efficiency is by getting Feedback from the employees.
Corporate trainers typically work in an office environment, although they may travel to different locations to conduct training sessions. They typically work regular business hours, although they may occasionally work evenings or weekends to accommodate the schedules of employees who need training. 
The average corporate trainer salary in India is 2.6 Lakhs per year, the salary across India can vary due to various reasons such as experience level, organization, city, and more.
To become a corporate trainer, you'll need to have a strong understanding of business processes and procedures and to get to this position they might start out working in entry-level positions, such as training coordinator or training specialist, and be promoted to this job role. Those with advanced degrees and extensive experience may become vice presidents of training or human resources.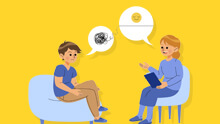 Take Career FREE Counselling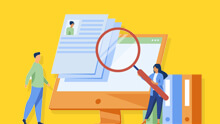 Looking for the right job??
Didn't find the right info?? Looking for a specific topics??