Historian
Trending Career BLOGS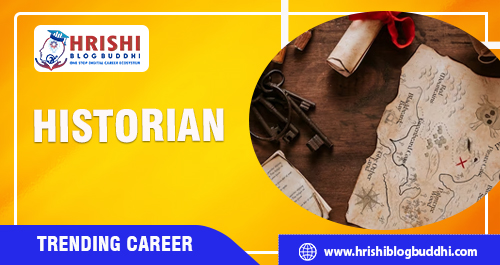 A Historian is an academic and researcher who has committed themselves to study past events such as social movements, political milestones and military conflicts. The Important role a historian plays is to give a glimpse of the past by evaluating historical records and conducting field research and also obtaining historical data from libraries, archives, and artefacts, determining the authenticity of historical data and teaching or researching at universities.

The different types of Historians can be of Amature status or professional. Amature status historians are academics who have studied, read and researched history at the most basic level without any prior experience in the field. On the other hand, a professional historian is a person who is an expert in the field and has formal education and experience in the field of history or knows how to find and use the source materials and knows how to analyze the available information and convert it into a meaningful written piece.
1. Educational Requirements
You must meet particular educational criteria to begin your career as a Historian. With these credentials Given Below, you'll be able to start a career as a Historian. The requirements are as follows:
The historian needs to have good communication skills as they have to give presentations on their historical speciality to the public. Historians have also required communication skills when they interview people to collect oral histories, consult with clients, or collaborate with colleagues in their designated work environment.
Historians must be able to Analyse the information and data in historical sources and draw logical conclusions from them, whether the sources are written documents, visual images, or material artefacts.
Historians literally try to answer questions about past memories and history, This may require them to investigate something unknown about a past idea, event, or person, they would also decipher historical information, or identify how the past has affected the present.
It is by far the most obvious skill that a historian may require to keep in their arsenal to be truly great at their profession. Historians must be able to research, analyse and process information from a large number of historical documents, texts, and other sources with ease.
Writing skills are not something historians are known for but they do need it more often than you might think. Writing skills are essential for historians due to the fact that they often present their findings in reports, articles, books and nowadays even podcasts.
Another important skill is paying close attention to the details. One of the most important skills a Historian must possess is the ability to pay attention and be attentive to details.
After the Candidates complete their academic studies or even while they are pursuing their studies, they must attend an internship or training program under a reputed Historian in a museum or on an excavation site. In a history internship you will gain many important skills in writing, teamwork, organization, accountability, and problem-solving among many others.
Internship opportunities for history students can foster great exploration of the field since there are so many categories and sub categories in history to consider and understand for a good career.
Informative or prestigious history internship programs create a good resume, provide valuable avenues to letters of recommendation, and can even be considered to be taken as full-time jobs.
The Historian must be a critical thinker with excellent attention to detail. Historians are responsible for determining the Genuineness of historical data, preserving artefacts and significant documents in museums and libraries, and studying history at the intersection of society, culture, and economics, among other duties. What duties they will be assigned or what career path will be best suited for them is completely dependent on their specialization within the field, such as Egyptian, weapons, texts, etc.
Archivists also known as curators oversee collections of historical pieces such as art or other items and keep them in good care
Librarians work in a historical library and work to assist with searching for information and also conduct their own research
Paralegals work as legal assistants and assist lawyers by preparing legal documents, investigating facts in a case, and researching past cases. Their work involves research and vast legal knowledge.
High school teachers are responsible for educating students from high school such as from ninth through the twelfth standard, often in more than one subject area, such as English, mathematics, and obviously history.
Editors revise and prepare materials, in a historically accurate way to be published in print and digital media. They often work at newspapers, magazine publications, book publishing houses, and media networks.
Depending on their ability and experience in the industry, a History Major can be applied to various industries and sectors. The following are some of the most well-known recruiters of History Majors: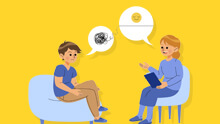 Take Career FREE Counselling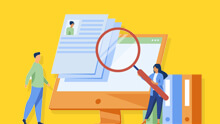 Looking for the right job??
Didn't find the right info?? Looking for a specific topics??