Are you good at accounting and bookkeeping functions knowledge? Want to build a career in the Accounting field? Then you must go for an Account Associate Job Profile!!!
To become a successful accounting associate individual must have the basic accounting and bookkeeping functions knowledge to perform tasks like preparing invoices, managing client accounts, preparing reports, and other clerical activities. Accounting associates are responsible for providing assistance to top-level accountants within a company therefore demand for this profile is high in the industry.
Want to know what this job profile requires? Then without wasting time let's start our blog on Account Associate!!
Account associate Job Profile
An account Associate provides sales, marketing, and logistical support to individual and corporate clients within an organization. It is an entry-level job profile that typically answers to either the financial service manager or a senior accountant.
They do basic accounting and bookkeeping functions, like preparing invoices, managing client accounts, preparing reports, and other activities. Account associate of tax or public accounting firm may involve working more than 40 hours a week, but for the most part, this is a typical 9 to 5 office job.
Account Associate Duties and Responsibilities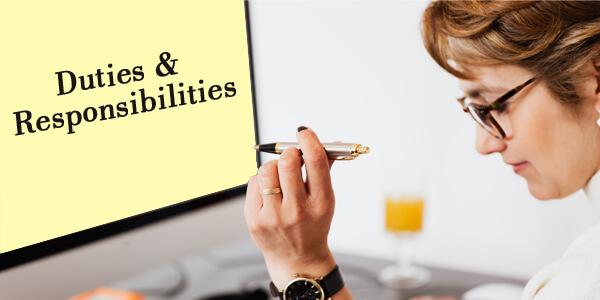 One of the important things to do while searching for a job in this Accounting Associate Field is searching out the Account Associate's Responsibilities in different organizations. Every company has there own duties and responsibility for this job profile. But there are some common duties are responsibilities are as follows:
To achieve sales objectives, coordinate with Account Managers and Sales Executive.
Have to analyze and prepare revenue reports, expense reports, and other business transaction reports.
Have to maintain accurate and complete customer account information.
Assist and perform pricing quotes for customers.
To determine new business opportunities with potential customers, coordinate with the account manager.
Always provide responses to customer inquiries in a professional manner.
Ensure customer satisfaction by providing high-quality customer service and resolve customer issues in a timely manner.
Support and manage existing customer accounts, and provide them daily support of business operations.
Identify business initiatives and improvements and also prepare business presentations and reports for customers.
To complete the different tasks, collaborating with supervisors and other accounting associates.
planning and administrating accounts payable and receivable.
Answering calls and managing routing correspondence with clients.
Observing with federal, state, and local legal regulations and necessities.
Job Requirements
Eligibility
Account associate job profile requires an associate's degree in accounting or a bachelor's degree in business administration.
The coursework includes economics, financial accounting, business ethics, public accounting, and bookkeeping.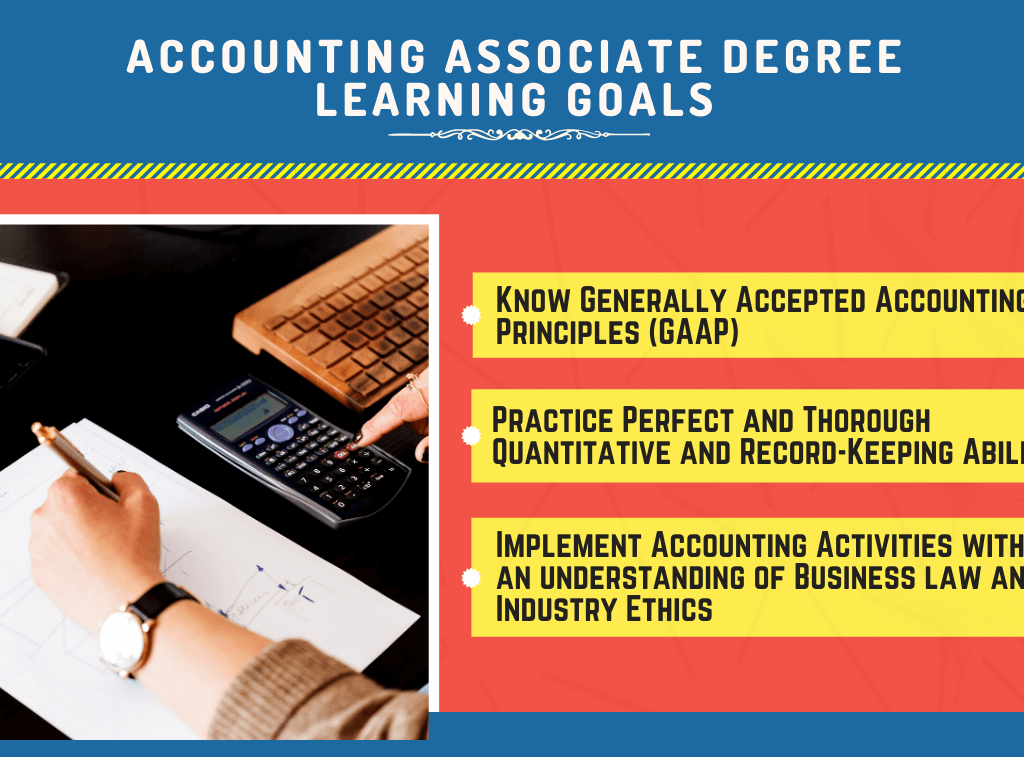 Accounting Associate Degree Learning Goals
1. Know Generally Accepted Accounting Principles (GAAP)
The GAAP are the normally-followed methods and standards for financial reporting and accounting methods. Graduates individuals with accounting associate degrees should learn a foundational understanding of GAAP. It includes how to process, report, and make decisions about accounting data. Individuals learn how to handle accounting records and generate financial statements.
2. Practice Perfect and Thorough Quantitative and Record-Keeping Abilities.
Graduates individual should have an eye for detail and accuracy in handling financial records, business accounts, and tax fillings. The degree programs focus on transmitting the required quantitative skills needed in the field. Understand how to apply these tools through real-world examples and practical coursework. Individuals with strong, deep record-keeping skills can find jobs in many different industries.
3. Implement Accounting Activities with an understanding of Business law and Industry Ethics
Individuals in the degree program should have an understanding of basic business law and ethical behavior in the accounting field. They should know the common legal problems and accounting standards and understand how to think critically about professional behavior.
Professional Requirements of Account Associate
Some of the professional requirements of the account associate job profile are as follows:
Sufficient accounting work experience in the corporate sector.
Show the readiness to take on more responsibility.
Need to be good at basic accounting and bookkeeping functions.
An ability to learn and perform a wide range of tasks.
Knowledge of generally accepted accounting principles.
Excellent skills in working on data entry and word processing.
It is mandatory for you to know the basics of computers like MS Office, MS-Excel, and PowerPoint along with Tally.ERP. Really do you want to upgrade your skills at a low cost?
Upgrade your skills for free. Subscribe now on https://www.hrishionlinebuddhi.com/ and get instant access to MS Office Bundle Course.

Challenges Faced by the Account Associate
Daily accounting challenges as we see the 2020s look very different from the past ten or twenty years. New technology has increased client expectations, and with the fluctuating technological and financial landscape, account associations must keep up with new developments in order to complete.
1. To keep up with the ever-changing tax laws, accounting professionals are working under more pressure. These continuous changes/ fluctuation add to the account associates' responsibility and duty to properly advise their clients and customers. Even they need to make sure that their skills are kept upgraded so that they are equipped to deal with the latest challenges.
2. Changing technology can be a big challenge for people and this is an even bigger challenge for businesses. So there is no wonder that switching from old comfortable tools and technology to new platforms and tools can be very difficult.
3. To get ahead of the talent shortage, firms are continually looking for skilled individuals. And therefore there is a big competition between freshers and pressure under old employees.
4. Here are more independent accounting associates coming up every day, so the competition to get more clients has definitely raised. Therefore they always need to make sure their services exceed the client's expectations.

IT Skills Set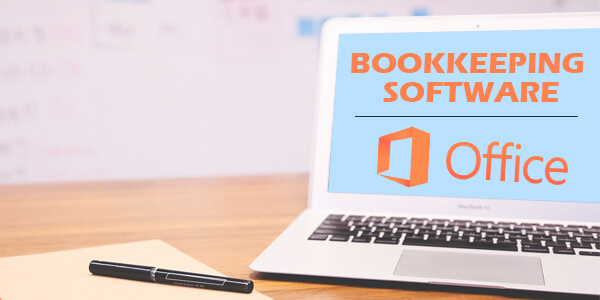 Rather than a computer, an accounting associate doesn't utilize many tools. To perform basic bookkeeping tasks, they use:
Microsoft Office Suite- They use it for developing financial statements or writing summary reports, they rely on Microsoft Office Suit daily.
Bookkeeping Software – This profile requires knowledge of automated accounting systems (bookkeeping software) like tally to perform basic bookkeeping tasks.
Non-IT Skills Set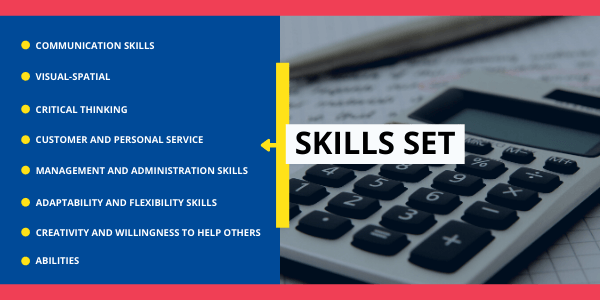 Important accounting skills enclose more than the ability to crunch numbers, complete expense sheets, and depreciate fixed assets. But there are a number of hard and soft skills that every accounting expert needs, whether they are working in an office or remotely. Let's see what those skills are:
Communication Skills – Enhancing your verbal and writing skills is essential to relay information clearly and concisely. Excellent communication to a diverse group of people both verbally and in writing without being understood.
Visual-spatial – They need skills like visual-spatial, it involves an eye for beauty that means a good eye for detail and the ability to maintain focus.
Critical Thinking – Critical thinking skill includes knowledge of administrative and clerical methods and systems such as word processing, handing files and records, designing forms, and other office methods and terminology.
Customer and Personal Service – Individuals need to have knowledge of principles and processes for serving the customer and personal services. It involves customer requirement assessment, meeting quality standards for services, and assessment of customer satisfaction.
Management and Administration Skills – It involves strategic planning, resource allocation, human resources modeling, leadership methods, production procedures, and coordination of individuals and resources.
Adaptability and Flexibility Skills – The ability to pivot and roll with change is an absolute must. As an Account Associate, you need to adapt to any kind of situation and need to deal with it in a flexible way.
Creativity and Willingness to Help others– All the accounting experts are ambitious self-starters who can generate new insight. Individuals may require to provide a source of aid when colleagues need help navigating a specific program or handling their busy schedule.
Abilities – An individual must be able to create and present reports, as well as correspondence daily.
Able to work as a team player and promote a cooperative work environment.
Also, perform the basic and higher mathematical calculations.
Work Environment
Accounting associates normally work in an office and those who are self-employed work from home. Normally they work during regular business hours but may be needed to work extra hours during tax season or at the end of a company's fiscal year. Some may travel to work at a client's place of business.
Future Growth
To grow in your career, consider earning in-demand accounting certifications. Always look for opportunities to get training that will make you more marketable as a job candidate as well as more valuable as a team member. Normally, experience and professional successes lead to upgradation, with these things individuals can apply for higher level profiles such as:
Financial Analyst – This job profile forecasts future revenue and expenditures to help direct the budget for upcoming projects. Their work highlights are researching and reporting on financial information, as well as monitoring financial movements inside the market. Even they help senior management make tactical and strategic decisions by providing periodic reports.
Senior Financial Analyst – They are responsible for examining financial spreadsheets and any other reports in order to forecast ongoing and future financial workflow. They perform different financial activities including budgeting, forecasting, making financial models, assisting with financial planning and assisting with close processes, etc.
Finance Manager – The Finance Manager investigates ways to enhance profitability and analyze markets for business opportunities like expansion, mergers, and acquisitions. Their work duties involve reviewing Financial Reports, monitoring accounts, generating financial forecasts, and supports the executive management team.
Accounting analyst – This job profile individuals work closely with the accounting department and other financial experts inside a company to help evaluate a company's income and expense. Even they serve reports necessary for higher-level decision-makers. Perform a wide range of administrative duties that allow businesses to keep track of expenses and predict future performance.
What package can you expect?
A salary of an account associate ranges from 10,000 to 20,000 per month. It will be based on the company, education, the position of the employee, the number of years of experience as well as the expertise of the person.
What if Accounting Associate Career doesn't work for you?
Not every individual with an account associate degree becomes a successful Accounting Associate. But individuals with accounting associate degree can apply for:
Accounting Assistant – Individuals in the Accounting Assistant profile serve administrative support to accountants, undertaking clerical tasks, and basic bookkeeping. They work directly for an accountant, accounting manager, or finance manager to help to manage the office and keep it running smoothly. As well as help managers to deal with customers and external agencies. You don't require any formal qualifications to become an account assistant.
Accounting Technician – Accounting technicians are involved with the financial matters of their clients. Technicians in accounts perform general accounting duties. This involves preparing monthly bank reconciliations, recording revenues, and investments, preparing adjusting entries and schedules, and other relevant duties as needed. When accounting technicians input financial data and generate reports then accountants review reports and make sure the reports are perfect and that related financial laws and regulations are followed.
Accounts Payable and Accounts Receivable Administrator – Account payable administrators make the sure invoice and the accompanying payment requests are complete. Ensure the payment request is complete in compliance with the necessities of IDRC's financial policies and procedures and put them in IDRC's financial information system. Also, receive and review travel expense claims for perfectness.
Account receivable makes sure their company receives payments for goods and services and records these transactions respectively. Their work includes security income by verifying and posting receipts and resolving any inconsistency. They keep records by microfilming invoices, debits, and credits.
Administrative Assistant – Administrative assistant serves administrative support to make the sure efficient operation of the office. Their work includes answering phone calls, scheduling meetings, and supports visitors. Also perform administrative duties like filing, typing, copying, binding, scanning, etc. Support team by doing tasks relevant to the company and excellent communication.
Auditing Clerk – The Auditing Clerk performs duties such as verifying records and financial statements generated by other employees. They review accounting records and financial data to check for accuracy and correcting or noting errors inside accounting records. They calculate and verify ledger balances and other books of accounts.
Bookkeeper – They monitor a company's financial data and compliance by handling accurate books on account payable and receivable, payroll, and day to day financial entries and reconciliations. As well as daily tasks like monthly financial reporting, general ledger entries, and record payments and adjustments.
Payroll Clerk – The payroll clerk manages payroll information by gathering, calculating, and entering data, and issuing pay and pay-related information to employees. They generate reports by putting together summaries of incomes, taxes, deductions, leave, disability, and nontaxable wages.
Tax Preparer – This job profiles individuals who are qualified professionals who assist clients to file their income tax returns. They meet with clients within the tax preparation methods to review financial records, complete all tax forms, and make sure that completed forms follow legislation and regulations.