Have amazing management skills? Want to explore your skills to have a successful career?? Then you must read this blog and get to know everything about the Accounting Manager designation.
The account manager is demanding work. Accounting manager job profiles are created and advertised in major industries. This makes an attractive opportunity for long-term career growth. One of your biggest career assets is strong connections with customers, and an accounting manager is all about building strong connections.
Without any delay, let's start with the blog:
Accounting Manager Job Description
The job of an accounting manager involves all areas relating to financial reporting and all activities that accountants use to collect, analyze, and verify an organization's financial data. The manager is responsible for managing resources of assigned areas to ensure accurate and timely financial statements and the company's financial goals.
This accounting manager's job involves him/her to supervise lower-level accountants. This is about you like to work with numbers, but you would prefer to lead rather than working independently.
Accounting manager responsibilities and Duties
When we use managers it represents management/ responsibilities of the organization. As per the types of organization, managers perform different job responsibilities. Let's have a look at the account manager key responsibilities:
Work as the lead point of contact for all account management matters and try to resolve customer inquiries satisfactorily.
Develop and manage strong, durable client relationships.
To maximize profits negotiate contracts and close agreements.
To enhance business growth, create and implement strategic account plans. Also, collaborate with the sales team to find out and grow opportunities.
To meet business goals, design, and implement effective sales strategies.
Account Managers hire, train employees, and also motivate accounting staff members while supervising and delegating department tasks.
To meet sales quotas, generate new business with existing clients, and find out areas of improvement.
To increase sales production, set revenue goals for the sales and marketing team.
Develop executive relationships with key buyers and influencers, and make rapport with key customers to increase the volume of business.
Help in challenging customer requests or problems as needed.
Keep information about the latest developments in the finance industry.
Job Requirements
Eligibility
To apply for the Account Manager Education requirements you need at least a bachelor's degree.
For aspiring account managers, Bachelor of Business Administration (BBA) is a popular degree program. This program includes classes in accounting, advertising, communications, finance, management, and marketing.
If you want to be advanced in this field then you should pursue an MBA.
It needs at least 5 years of experience in customer service, administration, or sales.
Professional Requirements of Accounting Manager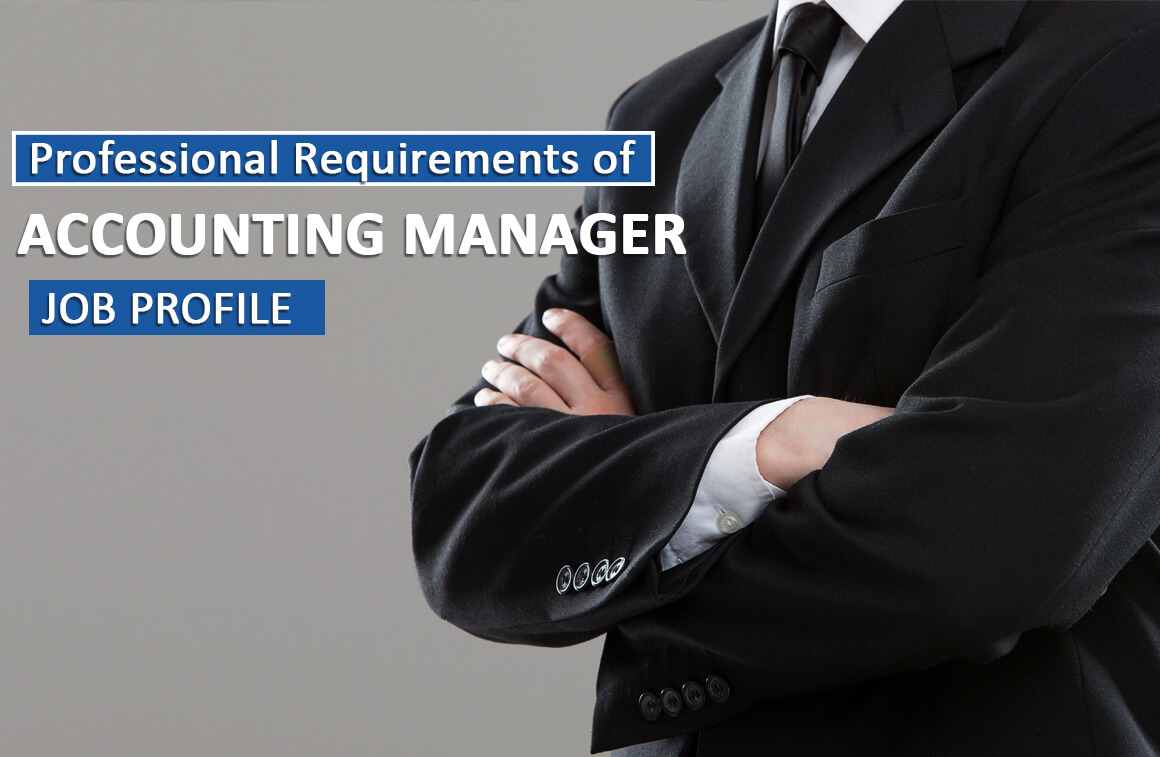 Some of the professional requirements of the accounting manager job profile are as follows:
Proven work experience as an Accounting Supervisor, Finance Manager, or role similar to it
Good knowledge of laws, regulations, practices, bookkeeping and accounting principles, and standards
Advanced computer skills in accounting software, MS Office, and databases
Expertise to supervise and direct
BS degree in Finance or Accounting
It is mandatory for you to know the basics of computers like MS-Office, MS-Excel, and PowerPoint along with Tally.ERP. Do you want to upgrade your skills at a low cost?
Upgrade your skills for free. Subscribe now on https://www.hrishionlinebuddhi.com/ and get instant access to MS Office Bundle Course.
IT Skill Set
To become a successful accounting manager you must be highly knowledgeable in computerized accounting applications and MS Office.
Also, need to be an expert at Google Apps, Salesforce, and help desk support software·
Non-IT Skills Set
Communication Skills – Need to present and influence credibly and effectively at all levels of the organization involving executive and C-suits.
Time Management Skills – Time skills are the second-highest mentioned skill. Need to keep keen attention to detail and compliance with deadlines.
Listening Skills – Keep proper listening skills to get a complete grasp of the situation before starting to expel their solutions.
Organizational Skills and Multi-Tasking Ability – This skill enables you to serve a more proactive service rather than a reactive one. You need to handle multiple accounts, contacts, and initiatives effortlessly.
Leadership Skills – Need to be directing clients/ customers and handling employees at all levels of the business. should be confident and command respect from both the clients and co-workers.
Adaptability skills – You need to be flexible and focused. As per the situation you need to change your decisions and plans. Therefore it is the most important skill for an account manager.
People Skills – It is a very crucial skill. Listen to the clients and be empathetic and comprehending what the client does and requires.
Relationship Building Skills – Establishing and getting trust from the client comes from signifying your concerns for their success with your product/ services.
Negotiation Skills – You not only require to sell to the customers but also negotiate terms so both the parties end up happy. This skill involves a sense of timing, amazing presentation skills, confidence to handle situations, and push back when needed.
Abilities

Ability to thrive in a results-driven environment.

Able to prioritize among finishing tasks.
Critical thinking and problem-solving abilities
Ability to improve inefficient processes.
Need to be able to provide solutions based on customer needs.
Ability to handle multiple projects at a time.
Schedule
Before selecting an account manager as your career know what is account manager daily schedule. An account manager normally works in an office setting on-site or off-site. Sometimes I may travel to meet with clients. As a manager sometimes I need to be available on evenings or weekends. Every day needs to start work by checking emails and creating schedules for the day. On a busy day, I need to work on several projects at a time. Every project consists of completely different tasks and issues with multiple outcomes.
Account manager does a difficult job as they are always overwhelmed with contacts, contracts, and many more.
They are under pressure to please the clients as well as the C-suite.
Managers don't always have the purpose-built technology tools they require to make their lives easier.
While dealing with creative people, they get difficulties delivering negative feedback as creative people are normally very passionate about their work and ideas.
Sometimes they are caught up with day-to-day busy work so they don't get time or energy to have a conversation with the customers.
Often clients or customers complain about their boss or end relationships without any fault.
What package can you expect?
The accounting manager average salary package varies as per the experience in the field. If an applicant has less than a year of experience then salary falls under 190000-700000 per year, if the experience is under 1-4 years then 240000-1210000 per year, and experience of 5-9 years then the salary will be 480000-150000 per year.
Future Growth Prospects and the path to get there
Before you go for an Account manager job profile, you should know what its future growth prospects. There are various options for advancement as an account manager. Your particular upward mobility way will depend on the specific strengths. The account manager skills you develop are widely applicable to other areas of the organization. With sufficient work experience, you can confidently present yourself as capable of succeeding in the high-ranking position and you can go for different job profiles such as:
Sales Profile
The easiest way for the account managers is upwards through the sales department as they normally work closely with the sales department. With the help of the sales department, they create a strong strategic partnership with clients. One can easily get a job as managerial, director of sales, VP of sales, or more senior sales position.
Account Management
Account management departments do similar functions to an account manager. Therefore you can be a good candidate for senior positions in the account management department. You can also gain a role as a senior account manager or national account manager that allows you to lead with the strong connections skills you have built between your work times as an account manager.
Business Development
Account managers perform many critical duties to understand their clients' needs. As well as company structure in-depth, moving to business development is the best option for a systems-minded account manager. A deep understanding of accounts can help you to find and approach potential business leads. You can apply for job profiles such as a business development manager or director.
Operations
The account manager can move into operations manager positions. If your particular strength is turning others' goals and dreams into realities this might be the perfect path for your growth. The workflow of smaller companies tends to be more closely linked, so they may offer to directly jump into operations.
What if This Career does not work out for you?
Account Manager is an excellent job profile, but it might not suit you. There is no reason to get upset or overthink this. You can easily go with other job profiles to have a successful career.
The very first option is you can go for the Account Executive Job Profile. They work as the direct link between the advertising agency or financial service company and existing client. They handle daily affairs and ensure customer satisfaction.
Another best profile is customer service representatives. They help customers with complaints and questions, as well as give customers information regarding products and services.
You can be a marketing consultant. Here you have to design marketing strategies and execute those strategies.
Another option to become a sales representative. They perform as a point of contact between a business and its customers.
Wish to acquire Skilled Courses to Become a Successful Accounting Manager? To get this course, visit – https://www.hrishionlinebuddhi.com/p/diploma-business-accounting-bundle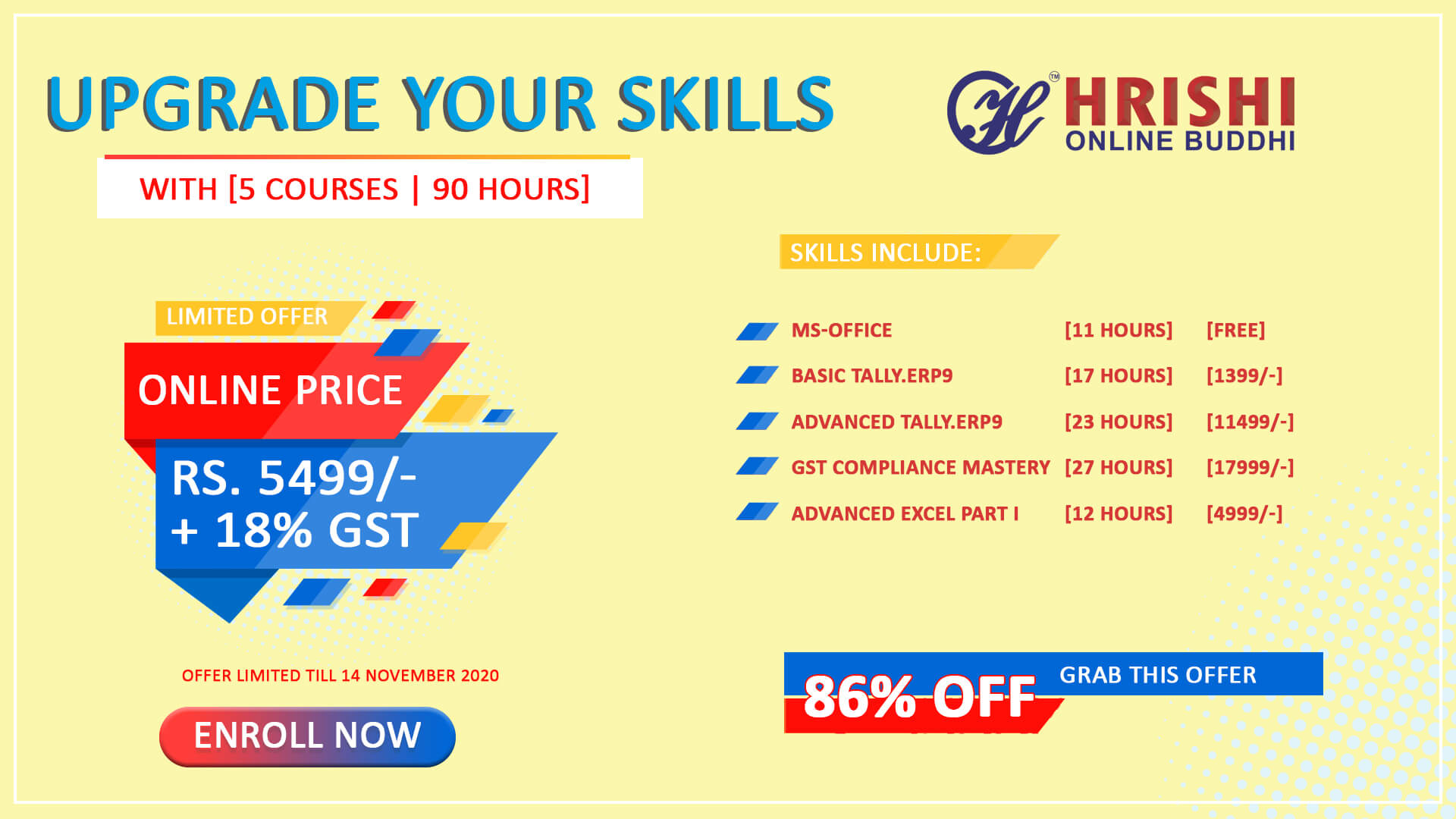 Great News!!! Now you can learn various industry-ready skilled courses with 86% FLAT DISCOUNT OFFER on the Master Accounting and Office Skills course, launched by the Hrishi Online Buddhi!!!
At HRISHI ONLINE BUDDHI, you'll get access to detailed knowledge with respect to computers and internet techniques as well as acquire advanced learning on accounting tools.
So what's the wait for, hurry and enroll now!!!