Many people aspire to work as an account assistant while studying. To complement formal study, working as an accounting assistant provides real-world experience in accounting.
Do you want to become an Accounting Assistant??
Then you are in the right place!! In this article, you will get the whole knowledge of the account assistant job profile.
The job description of an account assistant
Who is an account assistant? An accounting assistant works under certified junior or senior accountants. They help them to maintain, record, process, update financial documents such as profit and loss margins, billings, and other documents. Accounting assistants also known as accounting clerks are also responsible for ensuring accuracy on all financial documents and perform accounting duties.
Job responsibilities of an account assistant
Account assistant provides support to the accounting department.
Have to perform basic office tasks, such as filing, Data Entry, organized documents to proper accounts.
It handles communications with clients and vendors via phone, emails, or in-person.
Prepare financial reports, bank deposits, and check spreadsheets for accuracy.
They do transactions, issue checks, and update ledgers, budgets, etc. As well as evaluate financial budgets and keeps track of expenses.
If needed, issue invoices to customers and external partners.
Restore financial books including incoming and outgoing funds.
Analysis and file payroll documents and take part in quarterly and annual audits.
Job Requirements
Eligibility
You require a bachelor's degree in finance, accounting, or a business-related field.
In a small scale, you don't need work experience but on large scale industries may require candidates to have at least 1-year of experience in account.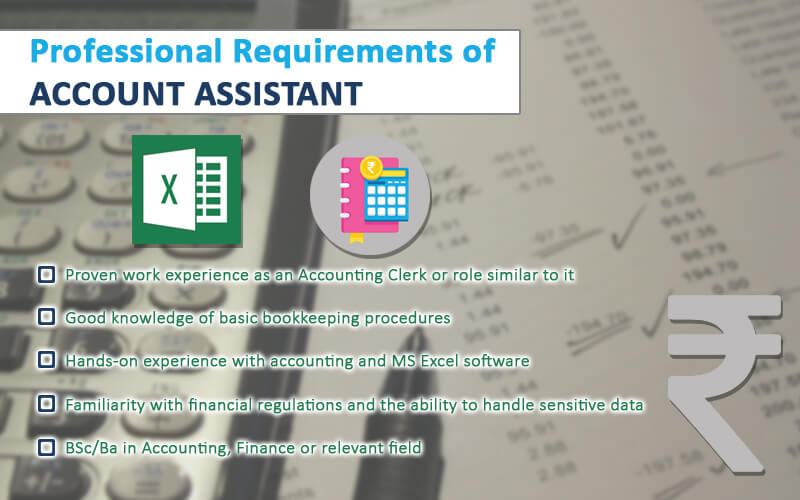 Professional Requirements of Account Assistant
Some of the professional requirements of the account assistant job profile are as follows:
Good knowledge of basic bookkeeping procedures
Hands-on experience with accounting and MS Excel software
Familiarity with financial regulations and the ability to handle sensitive data
BSc/Ba in Accounting, Finance or relevant field
It is mandatory for you to know the basics of computers like MS-Office, MS-Excel, and PowerPoint along with Tally.ERP. Really do you want to upgrade your skills at a low cost?
Upgrade your skills for free. Subscribe now on https://www.hrishionlinebuddhi.com/ and get instant access to MS Office Bundle Course.
IT Skill Set
To become an account assistant you must possess IT and computer knowledge. For instance, during maintaining electronic financial records or while managing and updating the organization's accounts database.
You need to have knowledge of computers and software like MS Excel as well as good typing skills. Microsoft Office programs, help to create reports and invoices and manage financial records.
Accounting Software Skills can vary from company to company, but an understanding of common features can help accounting assistants adapt to different workplaces.
Non-IT Skills Set
Accounting Assistants require a shifted range of abilities and skills to adjust to the assorted number of exercises they'll perform. The following are a few of the abilities/ skills bosses look for in this job profile:
Accounting Principles – You should have an understanding of basic accounting principles and skills. It helps to perform a number of financial functions inside an organization while communicating with other accounting experts.
Excellent communication skills – Excellent verbal and written communication skills help account assistants to communicate well with their supervisors. Also, helps to communicate with others in the teams, customers, suppliers, and other professionals.
People Skills – You need to be situational and people analysis
Mathematical Skills – Mathematical logic should be strong, as they must carry out numerous financial tasks that need fast and accurate calculation.
Problem-solving skills – Many of the time amounts/ numbers in accounting ledgers are not balanced, that time assistants must use their problem-solving skills.
Organizational Skills – Organizational skills are important which includes tasks like filing documents, managing records, and performing other needed administrative tasks.
Interpersonal Skills – This skill is important to work well with others and communicate well as an assistant will be working with other Accountants.
Ability to Work Under Pressure – Accounting departments aren't often seen working under high pressure. But these environments can become stressful at the time of the financial year and at tax time. So accounting assistants must be able to work efficiently and accurately during such time.
Schedule
Account assistance is normally expected to be at work between common daytime office hours. Generally, they work traditionally 8 – 9 hours weekday office hours. In an office environment, their work takes place with the majority of their day spent in front of the computer. Sometimes I need to extend work time for in-house training, experience, or further qualification. They may work independently with small amounts of administration as required.
Usually, they work in the offices of private accountants or big organizations. If they are working as a part of a team inside a work environment, they will be full or part-time and their contract may be permanent or temporary. Sometimes there are possibilities to travel for work. Independent work is progressively fundamentally inside the profession and traveling during a workday is conceivable in the event that you choose to deal with a freelance premise. There are additionally part-time positions accessible inside firms and you can work on a temporary or permanent agreement.
What kind of challenges does an Account Assistant face?
Just like every job profile, there are some challenges faced by the account assistants. Let's see some common challenges faced by them:
It is not thought of as a wildly exciting job profile. Unless and until you are really becoming the champ in numbers and spreadsheets and enjoy filling out tax forms.
There isn't a lot of space for adaptability as the occupation requests routineness and consistency, because you are a central member of the workplace.
Crunching numbers and filling out tax forms can become boring over time as the role doesn't involve a great deal of variety.· This job profile is all about reliability and consistency so it may not be the best fit for any individual looking for excitement in a job.
This job profile is all about reliability and consistency so it may not be the best fit for any individual looking for excitement in a job.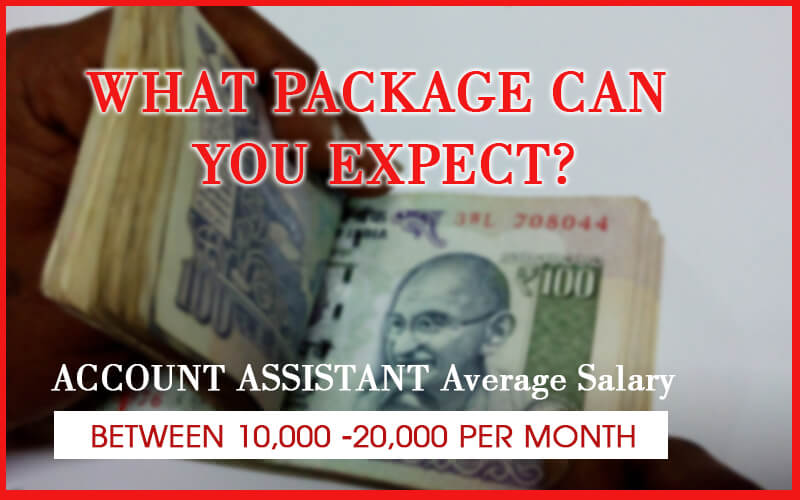 What package can you expect?
An account assistant's average salary is between 10,000 -20,000 per month. The salary of an account assistant differs as per skills and knowledge, location, experience, and company scale.
Future Growth
Account assistant job profile consists of ample opportunities for career progression.
They are likely to be treated as important members of the team that should lead to improved job satisfaction.
Some firms offer extremely attractive reimbursement packages with pay benefits.
For qualified candidates, there is also an excellent opportunity for finding work as companies always require an accounting department.
One can go for a junior accountant job profile. This consists of an entry-level position in an accounting department. This job profile includes duties such as posting journal entries, updating financial statements, handling accounts receivable and accounts payable, paying monthly payroll, and performing financial reports.
Assistant controller is another option that makes sure that the work of a corporation's financial departments gets done. They need to be familiar with the company's practices and procedures with years of experience to make decisions.
What if This Career does not work out for you?
This is a very common question for every job profile. But there is no worry about it as every job profile surely has a substitute profile in case the selected profile doesn't work for you.
So let's have a look at some profiles for which you can go for:
Staff Accountant – They keep records, handle financial reports and ledgers, file billing, and total general bookkeeping. They work under the supervision of a controller, director, or certified public accountant. Generally, they perform their work duties in the office at their desks.
Auditor – Auditors are experts who review the accounts of companies and organizations. They make sure of the validity and legality of their financial records. Sometimes play an advisory role to recommend possible risk avoidance calculates and cost-saving that could be made.
Certified Public Accountant – By obtaining CPA certification one can become a certified public accountant. They perform as consultants on various problems, involving taxes and accounting. They come under a trusted financial advisor who helps individuals, businesses, and other companies plan and reach their financial goals.
Accounting Manager – This job profile monitor accountants. They generate systems and processes for examining and reporting financial data. They make sure companies follow legal and regulatory needs, and suggest improvements for business functions.
Wish to acquire IT and computer knowledge? Visit – https://www.hrishionlinebuddhi.com/
At HRISHI ONLINE BUDDHI, you'll get access to detailed knowledge with respect to computers and internet techniques as well as acquire advanced learning on accounting tools.
So what's the wait for, hurry and enroll now!!!