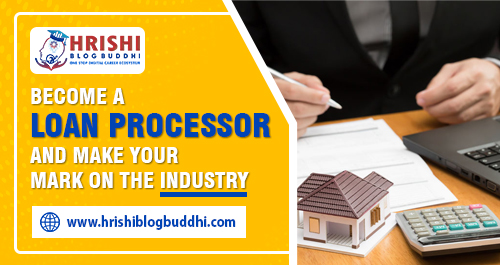 A Loan processor is a bank official who is responsible for accepting your loan application, processing it, and then helping you close the deal. The Loan processors are mostly good at communicating and getting information across the table in order to convey all information in a polite, approachable and understandable manner. Loan processors make sure that the information about the applicant is collected and filed properly and completely to be able to process a loan application smoothly.
It is a respectable and stable job and the opportunities in this sector are also growing as the Banking and finance sector is one of the largest industries in India and is ever growing. With many reforms in banking and finance systems, there is a lot of career potential in this industry.
Do You Want to be a Loan Processor?
To build a career as a Loan processing officer you need to first understand the Job profile and responsibility of the job
This blog gives you a detailed idea of what it is to become a Loan Processing Officer in the Banking Industry of India.
What is a Loan Processor's Job Description?
The Loan Processor is responsible for always inform to the client of the status of the loan application. They need to constantly update the clients i.e loan applicants about the process, so that loan applicants have a full understanding of the methods it undergoes. They prepare and process loans once applications from the customers are received. After the Applications are received and reviewed a loan processor may be able to approve or deny a loan based on factors. They check whether the applicant is qualified and eligible for the loan. It is important to go through and verify all the documents attached by the applicant on the loan application such documents include bank accounts, income tax returns and pay stubs. 
It is the responsibility of the loan processor in question to make sure that all policies are followed, all documents are signed, and correct data is given in order to approve a loan.
Bank Loan Processor Job Roles and Responsibilities
Perform initial appraisal of potential borrowers by closely examining their applications

Perform background research to find out the credit score of a loan applicant

Evaluate the eligibility for a loan or mortgage of an applicant by Interviewing applicants

Conclude on all applicable financial and non-financial criteria for loan

Develop loan repayment plans

Clarify important points by following up on them

Give the "green light" to eligible candidates and report decisions with valid reasons

Finalize loan contracts and keep clients informed about the rules and regulations

Remain up to speed on lending and other financial services

Create and renew loan records

Identify customer needs and explore all options regarding the loan and suggest different types of loans

Cultivate trustworthy referral networks

Suggest alternate channels to the clients and cross-sell products and services

Forge trust relationships

Work within established regulations and adhere to law requirements of the organization and country
Eligibility For Loan processor
The Loan Processor requires to have a Three year college degree with majoring in business, banking or finance preferred, such as a Bachelor of Commerce (B Com), Bachelor of Banking and Finance (BAF), Bachelor of Management Studies (BMS) etc. If you want to have a good chance of working in a reputed organisation, A master's degree is recommendable, such as a Master of Commerce (M. Com) or MBA in Banking and Finance.
The loan processor may also acquire formal training on the job from superiors and having a good reputation and experience will be great as well.
Skills and Abilities Required:
The Loan Process Officer has to regularly interact with the people who are applying for the loan, inquiring about it and asking about post loan acceptance details. This means they have to constantly communicate with people of all sorts and hence, good communication skills are required. 
They must also be good at analysing as they need to analyse all the documents that are submitted by a loan applicant and verify their legitimacy. Part of the job is also to analyse the person's credit score, income, past loan history etc.
Computer skills are very necessary for today's day and age for any job. Most of the work in a bank is done digitally from account tracking to document updating. It is necessary for an employee of the bank, especially for someone like a Loan Processor to be proficient in Computer Skills and the software used in daily work.
Work Environment and Schedule
The Loan Processor works in a bank. And Banks tend to be air-conditioned, moderately quiet yet fast paced environments. A loan processor may have to sit in their office for hours on end to analyze the loan application thoroughly before denying or accepting the application. depending on workload, a loan processor may work for a long period of time.
How much is the scope for Earnings?
The Average Salary for a Bank Head Teller in India can range somewhere between 3 Lakh to 5 lakh INR per annum.
Evaluating Loan Application:
The Loan processor needs to evaluate the application letter thoroughly so that the bank may not give a loan to any defaulters or people with a bad credit score.
Develop Good Loan Repayment Plans:
The Loan processor should develop good loan repayment plans so that the customer has to pay minimum interest and also the bank gets profited.
Forge trust relationships:
The Loan Processor has to maintain good relations with the customers so that they come back in the future whenever they require to borrow money from the bank.
Average cycle time is a basic, yet important, performance metric of a loan processor. It is basically a Sum of Days from Application to Funding for All Loans, i.e number of loans funded divided by Loans Funded in the Same Period.
It is basically the ratio of the number of loans funded and the number of Applications Submitted in the Same Period of time. The pull-through rate provides a high-level perspective on the overall health of the lending system.
Application Approval Rate:
Application approval rate provides a couple of important insights into your client acquisition strategy. Typically, a low application approval rate is indicative of either a large problem in document gathering and reviewing.
The Work of a Loan Processor is very important and stressful yet not very physically demanding. The work happens mostly from an office or bank environment and the workload is mostly high yet slow paced. It is a very stable and high paying job. Anyone who is good at evaluating and understanding finance and business has a good chance of being a successful Loan Processor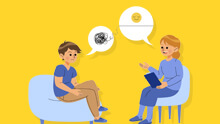 Take Career FREE Counselling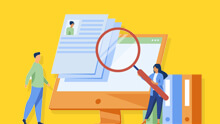 Looking for the right job??
Didn't find the right info?? Looking for a specific topics??