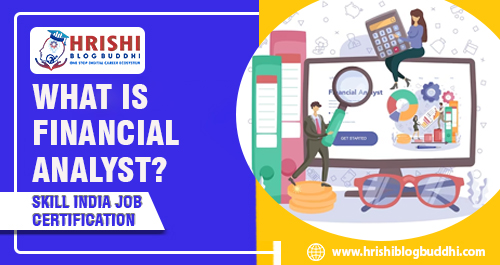 Being a financial analyst is one of the most popular vocation ways in finance. Are you interested in Finance?? Can you do research all day?? Then you must opt for a Financial Analyst job profile.
The employment of financial analysts is estimated to grow as quickly as the average for all occupations. Developing scope for financial products and the requirement for deep knowledge of geographic regions are expected to rise to high employment growth.
Financial analysts are in charge of providing guidance to businesses and individuals making investment decisions. Their work includes plans, analyzing business performance and market conditions to create forecasts, and help to make tactical and strategic decisions by providing periodic finance reports.
To make predictions about businesses, sectors, and industries, financial research macroeconomic and macroeconomic conditions along with company fundamentals. They often suggest that buying or selling a company's stock depends upon its overall performance. Not every financial analyst analyzes the stock or bond markets or helps in investments. Organizations may also hire them to use numerical data to spot the effectiveness of different marketing methods.
The majority of financial analysts work on the buy-side. They help their employers make decisions on how and where to spend their money. They perform financial research on companies, deriving formulas, and strategies that will help the buying firm earn the biggest potential risk-adjusted return on their capital. Normally they are engaged in reading current news and trends, tracking down valuable details, and building financial models.
This kind of analyst finds out how favorable an investment seems and how those investments fit with the fund's investment strategy. Their suggestions are depending on their research and analysis. The success of these analysts is measured by the quality of their financial modeling. Buy-side analysts require to obtain data from reliable sources. 
At a sell-side organization, analysts gauge and compare the quality of securities in a given sector. Depending on these analysts, analysts then write research reports with certain suggestions. Recommendations like buy, sell, strong buy, or hold. They also track the stocks that are in a fund's portfolio in order to find out when or if the fund's position in that stock should be sold. The suggestions from them carry a great deal of weight in the investment industry, as well as for individuals employed at buy-side firms.
Sell-side analysts play responsibilities such as suggesting corporate clients on major transactions and mergers and acquisitions. Enable increasing capital, including debt and equity. To win business, build contacts with corporates. Serve equity research coverage of listed organizations. They perform financial modeling and valuation.
Indeed, even inside these specialists, there are subspecialties: analysis who center around stocks or on fixed-pay instruments. Numerous analysts likewise practice much further inside a particular area or industry. An examiner may focus on energy or innovation, for instance.
3. Investment Banking and Equity Analysts
These analysts often play a role in finding out whether or not certain deals within companies. Companies for example initial public offering, mergers, and acquisitions are feasible depending on corporate fundamentals.  They closely analyze small groups of stocks with respect to serve intuitive investment ideas and suggestions to the companies' sales executives and traders.
Normally equity research analysts focus on a small group of stocks under specific industries or geographic regions. Equity analysts become professionals in the particular firms and industries that they analyze. They help make the purchase and sell decisions for huge banks and who attempt to locate favorable IPO opportunities. They are among the highest-paid professionals in the field of financial analysis. They often deal with big sums of money.
Advice clients on the financial status of their business, investment opportunities, financial strategies, and suggest a restructuring of the business towards a more profitable end.
Their work involves financial forecasting, reporting, and operational metrics tracking.
Always analyze financial data and create financial models to support decisions.
Generate reports on financial data.
 Inspect old results, perform analysis, identify trends, and make recommendations for improvements.
To ensure accurate financial reporting work closely with the accounting team.
Always judge financial performance by comparing and analyzing actual output with plans and forecasts.
Give an analysis of trends and forecasts and recommend actions for optimization.
The study proposed changes in methods and materials.
Always perform market research, data mining, and business intelligence
Keeps proficiency with Microsoft Excel, Access, SQL, and Business Objects.
Eligibility
To become financial analyst candidates need to have a Bachelor's degree in accounting, finance, economics, or a related course of study. 

A Master's degree in this specialization helps to deal at the entry level.  

Certification is not a must but having a Chartered Financial Analyst (CFA) certificate can boost career prospects. 

Having work experience in the same industry will help to get a higher position and higher salary package.
Certification Exams to Take
Now, let us tell you why you should go for certification exams! Such exams are signifiers of expertise in a determining aspect of the financial industry. Individual seeking a certification normally requires doing hours of coursework and then pass an exam.
There are different certifications out there. Let's see what those are:
CPA (Certified Public Accountant)
This license is for accountants, financial analysts, and tax preparers. The CPA license is one of the most widely recognized financial certifications. It can be helpful for those individuals looking for financial advice related to decreasing taxes and organizing investments.
CFP (Certified Financial Planner)
Such planners are skilled in topics across the financial field. CFP assesses their client's full financial portfolio and then serves personalized financial plans. To become a CFP an individual must complete a set of courses, then pass a 7-hour test.
ChFC (Chartered Financial Consultant)
This certification was developed as an alternative to the CFP certification. ChFC is who you should work with if you have a niche requirement. Requirements like financial planning for divorce or small business planning.
CFA (Chartered Financial Analyst)
A CFA is a professional in investments and securities. If you are looking for an investment manager, working with a CFA is an excellent choice.
FRM (Financial Risk Manager)
FRM certificate holders are likely to be found working in banks as risk analysis. They can likewise deal with private customers requiring investment advice.
CMFC (Chartered Mutual Fund Counselor)
These certification holders are experts in mutual funds. The certification coursework particularly prepares designers to understand the complexities of the field of mutual funds and other packaged investment products.
Some of the professional requirements of the financial analyst job profile are as follows:
A candidate must be a Certified Financial Analyst (CFA) or of certified equivalence

Initiating something that is very significant is expected in a financial analyst

The ability to work independently is yet another very vital duty
It is mandatory for you to know the basics of computers like MS Office along with Tally.ERP. Really do you want to upgrade your skills at a low cost? Upgrade your skills for free.
To become a financial analyst you must possess IT and computer knowledge for instance and during maintaining electronic financial records. Basic accounting tools and computer knowledge is a must in the accounting and finance industry.
As well as an understanding of using software packages to analyze financial data, see trends, create portfolios, and make forecasts. 
Having just a degree and certificates is not enough to become a successful financial analyst. It requires certain skills to get successful. 
Analytical Skills –

Financial analysts must have ample information in searching for profitable investment. As their core work is doing analysis.

Communication Skills –

Strong verbal and written communication skills help to explain their recommendations to clients in clear languages that clients can easily understand.

Decision-making skills –

This profile individual must serve a recommendation to buy, hold, or sell a security.

Mathematical Skills –

They utilize mathematical skills when estimating the value of financial securities that require quick and exact calculations.

Problem-solving Skills –

When clients/ organization face any financial related issues, the financial analyst is responsible to solve those.

Interest in Business and Finance –

A global interest in the business world and its finances will help financial analysts thrive in their roles.

Self-motivation –

Self-motivation is essential while doing financial analysis. Sometimes situations become difficult and you might feel demotivated.

Interpersonal skills –

This skill involves selflessness, teamwork, visionary ability, and intuition.

Honesty –

Clients and employers must know that they can trust their financial analysts with access to company financial things. 

The financial analysis must need to have knowledge of finding profitable investments and knowledge about finance materials.

They also need to have the ability to solve financial problems in an effective manner.
Approx. one-third of financial analysts work more than 40 hours a week. Sometimes to research information and data many analysts must take their work home with them, so that can help them on subsequent business days. Much of their research is done after office time as their days are filled with calls and meetings.
They mainly work in offices but travel often to visit companies or clients.
The very first challenge is faced by the financial analyst is being able to analyze and interpret financial statements, market trends, and microeconomic conditions in order to offer suggestions on potential business deals and decisions. 
Second challenge is when technical challenges are involved in accumulation and interpreting this complex data. 
It creates a big issue while taking their vacations since there is always some time-sensitive work that should be done.
Always need to update about various happening in the financial finance market.
Extensive traveling can be trouble at times as it is a crucial part of an analyst as their analysis requires gathering data and resources from various information centers.
Employment-wise, the outlook is good for this profession. The need for financial analysts tends to rise with total economic activity. They will be required to evaluate investment opportunities when new businesses are found or existing businesses expand. Developing business sectors all through the world are giving new venture openings, which require aptitude in geographic districts where those business sectors are found.
A salary of a financial analyst is determined on the basis of skills and knowledge the professional possesses. Therefore any fresher individual in this career can earn a salary in the range of Rs.15000 to Rs.40000 per month. After 4-5 or more years of work experience in the field, there is 4-5 times growth in the salary package.  With the right exposure and sound presentation skills get employment in multinational hedge fund companies and financial bodies involving investment banks.
Although functioning as a financial analyst presents a few difficulties, it's likewise a career way loaded up with opportunities, especially with regards to having your pick of businesses. This is because financial experts have a vital influence in pretty much every territory of business so whether you're enthusiastic about music or interested in technology, you're probably going to discover an open door that is appropriate for you.
Let's see what are the financial analyst future growth careers:
Portfolio manager – They are firstly responsible for developing and handling investment allocations for private clients. Determines a customer's appropriate level of risk depends on the time horizon, risk desires, return prediction, and market situation.
A partner in an investment bank – Such a bank refers to a financial services company that works as an intermediary in big and complicated financial transactions.
A senior manager in a retail bank – This profile is to run a store successfully. The senior manager monitors the commodities in the shop as well as give instructions to staff and junior manager. Ensure their staff serve great customer service as well as examine the financial performance of the store.
Insurance company manager – They oversee the activities of all the employees who work for an insurance branch. Confirm all corporate policies are followed, involving the filing of client records.
Investment advisors – They are also known as a stockbroker. When an individual or group of individuals make investments, the advisor recommends or conducts securities analysis in return for a fee. This is done through direct management of the client's assets or by way of written publications.
Financial consultant – To help clients, they look at the whole picture of a client's financial life, involving debts, assets, expenses, and income, they determine what those goals should be. 
It is not mandatory to work under a particular job profile even if you are not enjoying it. So in this job profile also you can go for other job profiles which might suit you a much better way.
Let's see what are those job profiles:
Financial Manager – They are in charge of the financial condition of an organization. They create financial reports, direct investment activities, and generate plans for the long-term financial goals of their organization. The main goal of the financial manager is to maximize the value of the firm that will give long-term effects.
Insurance Underwriters – They are the professionals who gauge and analyze the risks included in insuring people and assets. Establish pricing for accepted insurable risks.
Personal Financial Advisors – This profile assesses the financial requirements of people and helps them with decisions on investments, tax laws, and insurance. They help clients plan for short and long-term goals, for example, saving for retirement through investments. Financial Service Sales Agents – They also called sales agents who sell financial services products. They offered services such as life insurance, investment advice, retirement plans, and banking services. Financial services sales agents may also provide the same services to companies and organizations.
Wish to acquire IT and computer knowledge? Visit – https://www.hrishionlinebuddhi.com/
At HRISHI ONLINE BUDDHI, you'll get access to detailed knowledge with respect to computers and internet techniques as well as acquire advanced learning on accounting tools.
So what's the wait for, hurry and enroll now!!!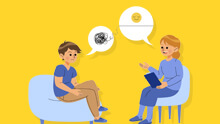 Take Career Free Counselling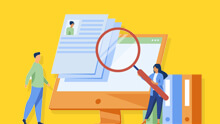 Looking For The Right Job??