If you are questioning yourself what is the difference between Indian English and American English. Well, They both speak the same language, but it may be frustrating sometimes when one speaks, because we Indian follow British English and Americans follow American English and it causes confusion because some words when translating from American English to British English may cause Spelling difference but words mean the same, Vocabulary Differences and Grammar.
If an Indian student who has gone to America for higher studies or for any other reason, he may have a hard time over there especially at the grocery store as he communicates with the store owner asking for some specific vegetable with Indian English word. The owner may not understand his terminology because they know the vegetable with another name in American English. Below are some British and American English word which have different meaning and pronunciation in America.
For example let's take a British English food term if an Indian ask the American grocery store owner "do you have lady fingers?", the owner may laugh at him as he cannot understand what he is trying to say because in America they don't say Lady finger they call it Okra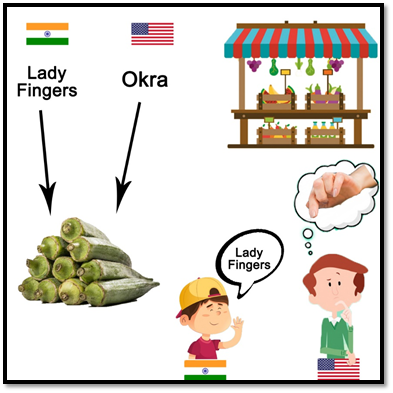 The Indian English and American English can be different and can cause confusion as you seen the above image how the Indian and American call the same vegetable with different names continue to read below for more differences in words in American and Indian English.
Coriander vegetable is used in cooking, we Indians call it Coriander and the American calls it Cilantro see the given image below: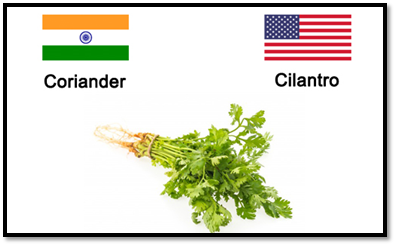 Brinjal (Indian English) is a vegetable that is widely used in cooking different food cuisines, The Americans call it Eggplant. If an American visits India and ask the vegetable vendor for Eggplant it will be an awkwardness between them as the vendor may not know what's an eggplant is.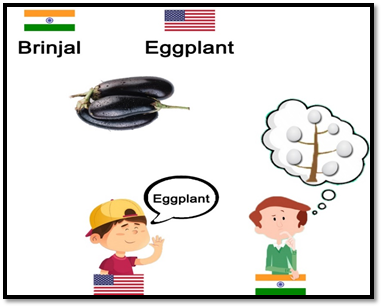 Peanut is word that is used by both American and Indian but in British English it is called Groundnuts. But due to the international advertising we also got the hang of calling it peanuts.
In India we call Yogurt (American English) Dahi but the British English for Yogurt is Curd.
Sweet onion/yellow onion/white onions (American English) we Indians call it only onion.
Beetroots (Indian English) is another vegetable that is commonly used and the Americans call it beets.
Everyone knows what are vegetables all the leafy ones we Indian call it vegetables only but the American call them greens.
Green Onion (American English) it is a small onion with a long leaves used mostly for garnishing and in Indian we call it Spring onions.
Vegetables, Food items – American Accent v/s Indian English (British Accent)
| | | |
| --- | --- | --- |
| American English | Indian English | Explanation |
| Creamer | Milkpowder | It can be a substitute for milk |
| Candy | Chocolate | Sweets |
| Bell Peppers | Capsicum | A vegetable containing seeds and comes in different color |
| Cookies | Biscuits | A baked hard, flat Sweet |
| Chillipepper | Chillies | A Spicy vegetable of different size, color and strength of spice |
| Jell-O | Jelly | A flavoured fruit sweet |
| Shrimp | Prawns | A aquatic animal |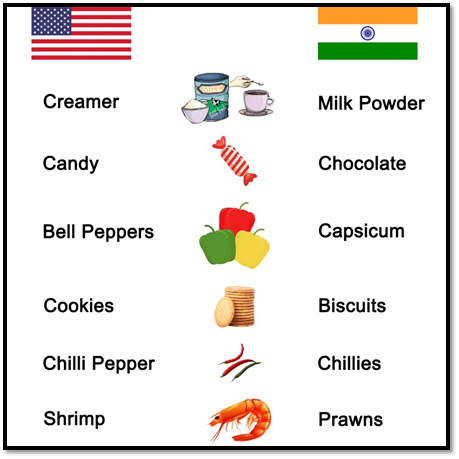 As there is many different words in British and American English, the key is that the two have more similarities. Accidentally using one instead of the other will not automatically lead to miscommunication. So don't be hard on yourself. Hope this blog can help you on how to pronounce British accent words.