What is IT Helpdesk Support? (+Key Insights You'll Need Before Applying For The Job Role Of Domestic IT Helpdesk Attendant)
Working at the support or in an IT Helpdesk role is a great way to access the essence of any business (customers and products). Since technology is used in most industries, IT help desk support personnel can find themselves employed within a wide variety of industries. They are also employed directly by hardware and software companies. In an IT help desk job, you get to connect with clients, understand their experience with your company, and get to know the product inside and out. It takes a certain combination of personal characteristics, skills, and values to really go a long way in an IT Helpdesk or support career. So, are you keen on applying for the job position of IT help desk? Well, in this blog article we're going to help you easily breakdown your doubts with respect to IT help desk support, the benefits an IT help desk management service provides a business enterprise, along with the know how about the occupation (to become one). All right, but before we dive into that part let's first understand:
What Is IT Helpdesk Support?
Helpdesk support, within the context of IT, is a department inside a corporation that is accountable for answering the technical questions of its users. Basically, it is the process of providing information and support relating to company information as well as information regarding the products and services of the organisation to the end users/customers. Most major IT agencies have set up help desks to reply to questions from their customers.

The questions and their answers are transferred generally using a telephone, e-mail, website, or online chat. Additionally, there are internal help desks aimed toward providing the similar form of aid, however only for the employees inside the organization. IT Help desk support is the level 1 support offered by any company to external customers and may be maintained by the company itself or may even be outsourced to external service providers.

Having said that, hope you did get a clear gist of how the IT Helpdesk System works. Now let's know:
Why Is Implementing IT Help Desk Management Service Beneficial For A Business Enterprise?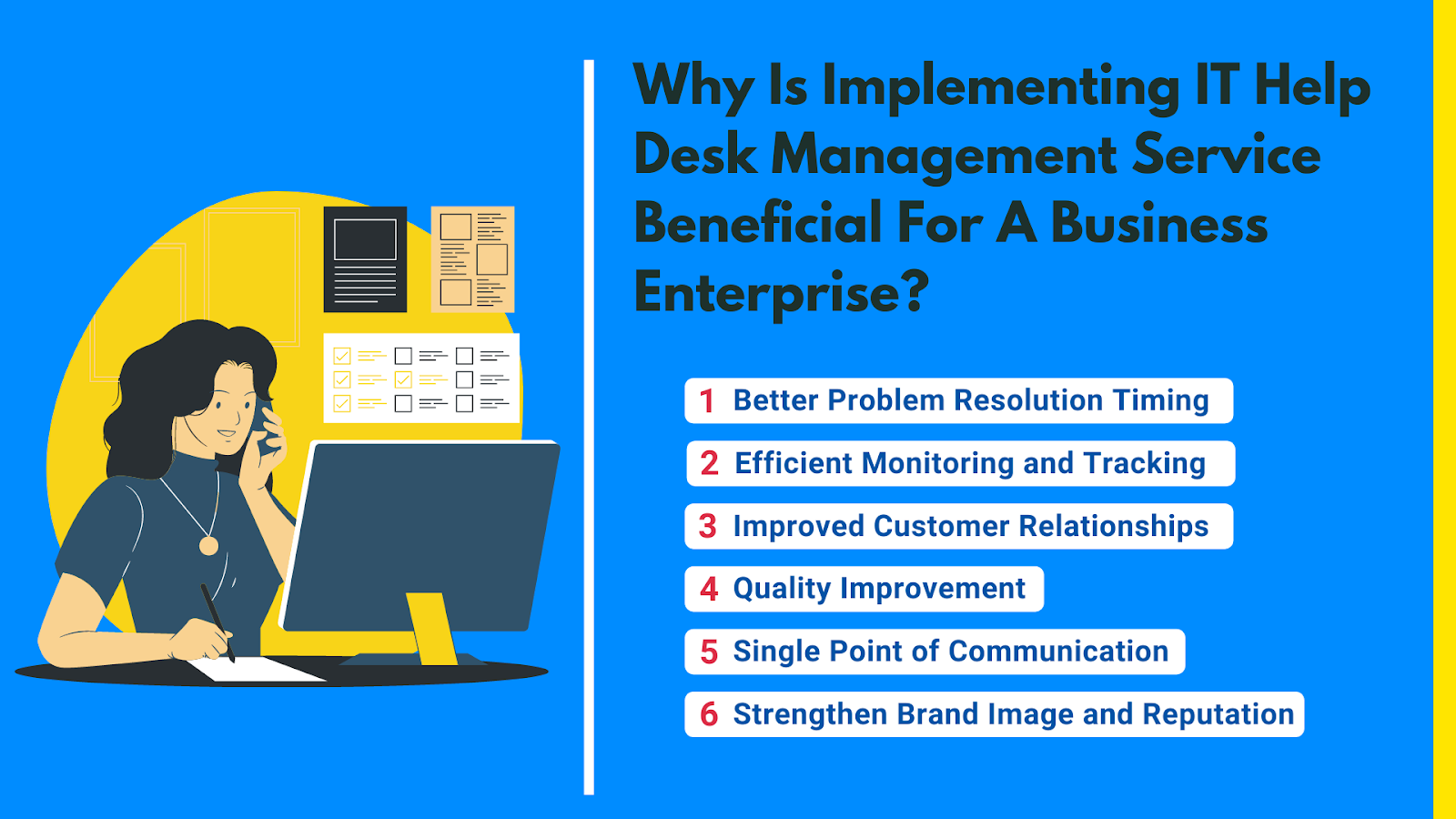 An IT Help Desk Management solution enables an organization within the business facility to track and resolve complaints of client. Here are top six advantages of implementing IT Helpdesk Management Solutions:
Better Problem Resolution Timing
An advanced help desk management service simplifies numerous complex and time
consuming day-to-day processes, enabling your client support team to save efforts and
crucial time spent on handling client requests and complaints. This minimizes the overall
time spent on resolving a problem.
Efficient Monitoring and Tracking
You can proficiently monitor and track the current status of any solution request or
complaint raised by your client using an advanced help desk management service. It enables
you to have an eye on the entire problem resolution cycle in a cost-effective manner,
starting from the time of its registration to the final resolution.
Improved Customer Relationships
By offering top-quality client support and assistance, your business can earn quality client
satisfaction with none complications. It would further enable you to maintain healthy and
profitable relationships with existing and new clients.
An advanced help desk management service enables businesses to enhance the quality of
assistance and support offered to the clients. With diverse tools and features, you can
guarantee that your clients get accurate and complete assistance with all their issues and
questions in focus.
Single Point of Communication
The IT Help Desk Management service functions as a one-stop solution for all client
support, requests, complaints, queries and assistance needs. It empowers your client
support team to handle all client requests and complaints from one place with none hassle.
Strengthen Brand Image and Reputation
Advanced help desk management service ensures top-quality client support and assistance,
which is the key requirement for earning client satisfaction. A happy and loyal client would
often suggest your brand name to others. It would assist you in building a strong brand
image and good reputation in the competitive market.<br>
All in all, implementing IT Help Desk Services in organizations can be demanding and
helpful, especially when it has to offer the 6 advantages as introduced above. With that said,
do you want to start a career in IT Services sector as an IT Helpdesk Attendant? Need to
know the IT Helpdesk Job Description as required by the industry today? Then be sure to
keep reading!
How Can You Become A Domestic IT Helpdesk Attendant?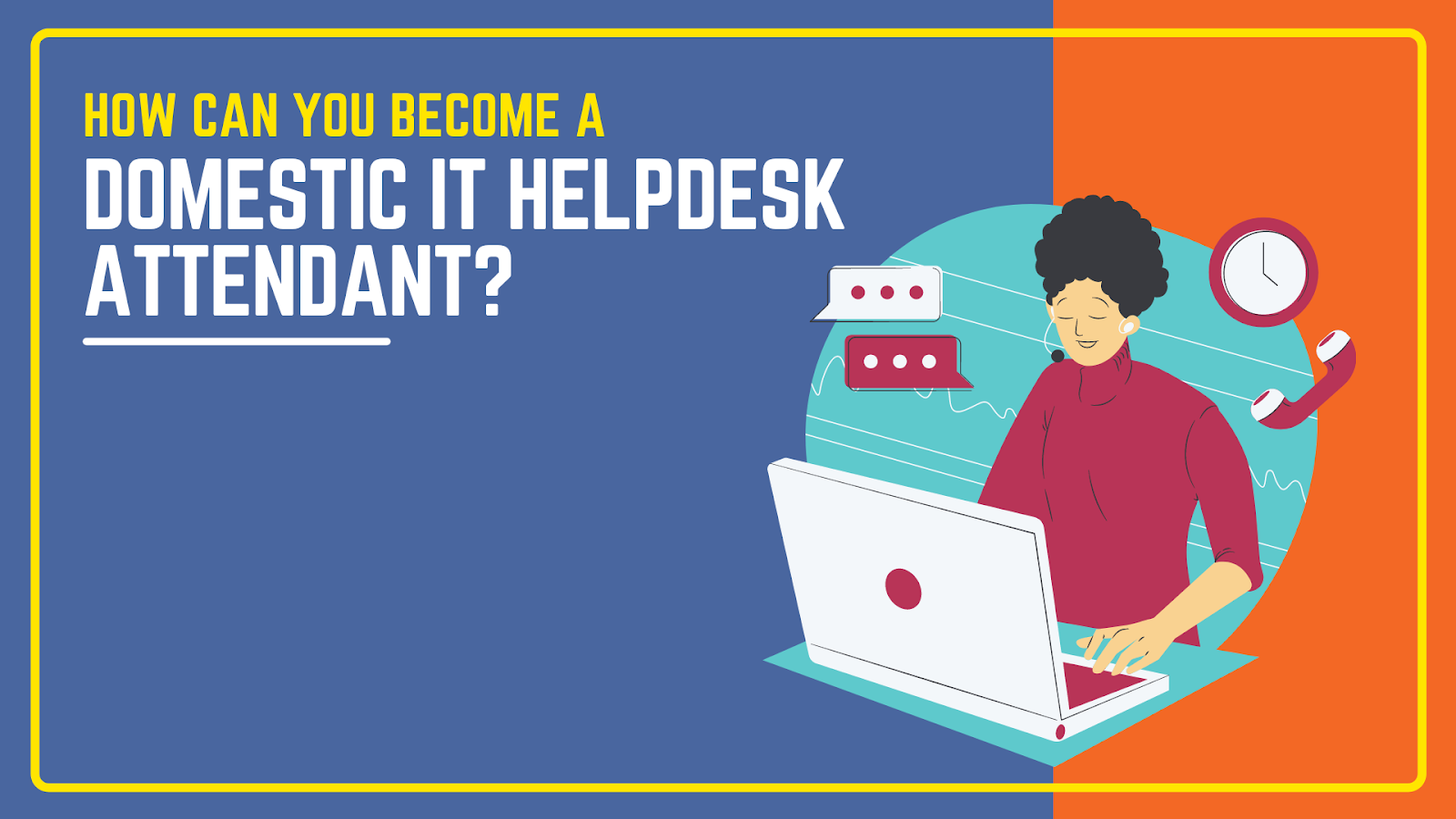 IT Helpdesk Attendant Job Duties And Responsibilities
We analyzed several Domestic IT help desk attendant job descriptions and came up with the following list of the most important Domestic IT help desk attendant job duties and responsibilities an individual must carry out:
IT Helpdesk Attendant Skills
Those who can deal directly with IT services requests/incidents and thrive as problem- solvers do well in this position. In addition to these traits, the following skills are needed to find employment as Domestic IT help desk attendant:
Required Education Qualification, Training and Work Experience
To get a Domestic IT help desk attendant position, candidates must have Master's Degree in any discipline or at least preferably be 12th standard pass.

As for the required training, a candidate should complete Certified training for Domestic IT Helpdesk Attendant

Whereas the job experience to apply for the position mandates a candidate to have 0-1 years of work experience/internship in a relevant area
10 Best Courses & Certifications Online For IT Support & Help Desk In 2021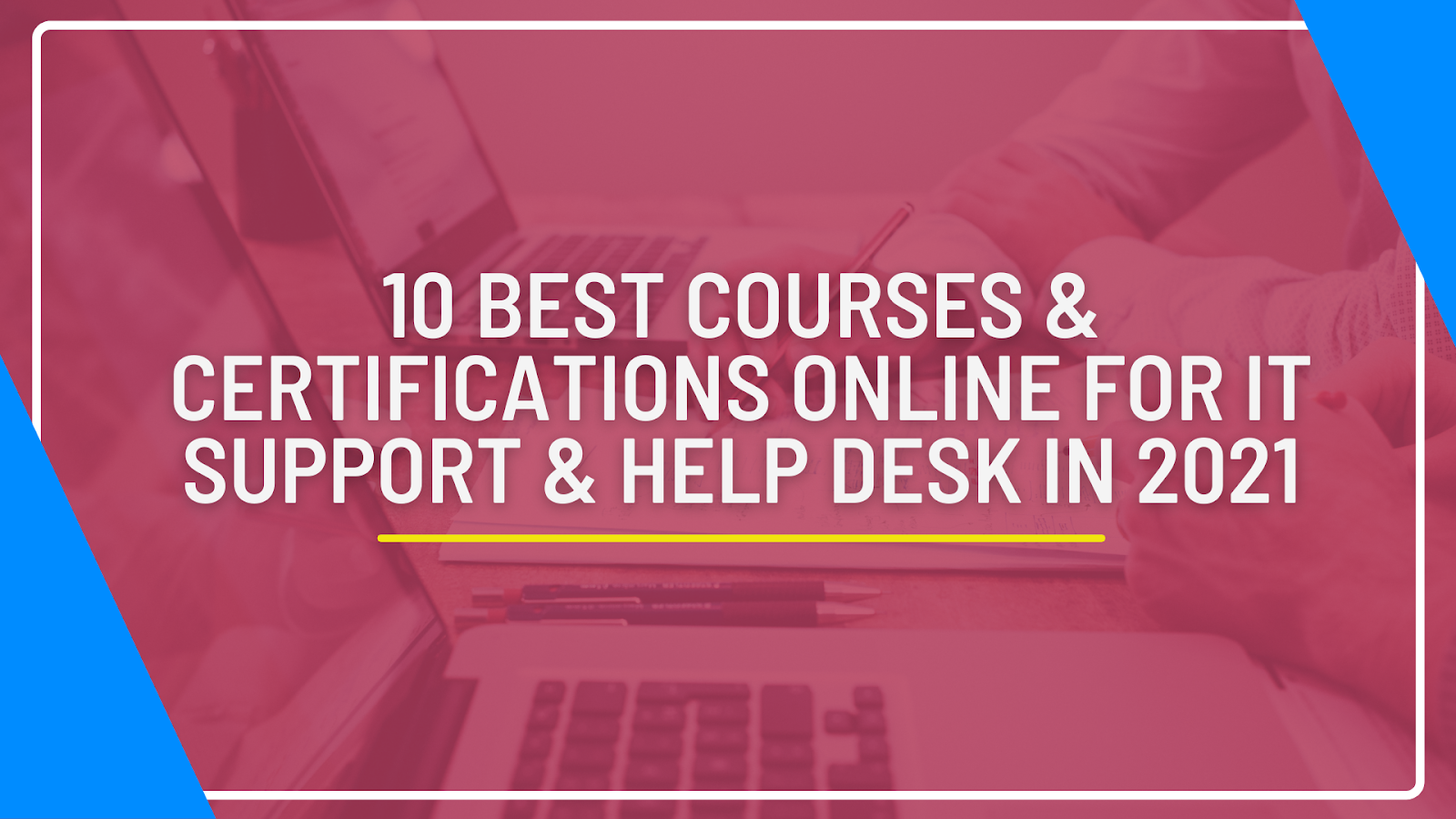 1 - Desktop Support Level 1 & 2 in real life – Troubleshooting (Udemy)
2 - TOTAL: CompTIA A+ Certification (Udemy)
3 - Google IT Support Professional Certificate (Coursera)
4 - IT Help Desk Professional (Udemy)
5 - Free Systems Administration Training Courses (Cybrary)
6 - Google IT Automation with Python Professional Certificate (Platform)
7 - IT Help Desk Courses & Training (LinkedIn – Lynda)
8 - Free IT Support Courses (Alison)
9 - IT Support: Fundamentals by Microsoft (edX)
10 - IT Help Desk Training for IT Professionals by Computer Cavalry (Udemy)
IT Helpdesk Attendant Salary (Expected Earnings)
The median salary for Domestic IT help desk attendant position according to different job experience is as follows:
(These figures are indicative and subject to change)
Is This Occupation Right For You?
Well, based on the trends observed in productivity and the likely growth potential of the IT and ITES sector, it is anticipated that the sector would result in an incremental employment by 2022 of around 7.5 million persons directly. Out of which job opportunities about 3.6 million will be in IT service sector.
If you still have doubts regarding the job position relevant to IT Helpdesk Support, Start with a FREE ONLINE CAREER COUNSELLING.
The team of Counsellors and Mentors at MyCareerBuddha can help you choose a career path by building a proper career action plan that's well suited for you to reach your goals.
For many people, help desk positions are the traditional points of entry into IT because most industries nowadays rely on technology.
IT Helpdesk Support plays a pivotal role in running any company. They aid support business end-users and make sure that the enterprise technology that corporations count on to perform business stays up-to-date and runs as consistently and smoothly as it should.
Hope that this blog post will be of assistance to you? As the knowledge you gain from knowing the duties and responsibilities of Domestic IT help desk attendant position will enable you to prepare well for the career if you are looking to obtain an entry level job in IT/ITES sector.
Well, that's it with our in-depth insights of IT Help desk Attendant job role and here's wishing you Best of Luck in your efforts to land a job in the days ahead!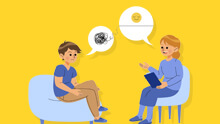 Take Career Free Counselling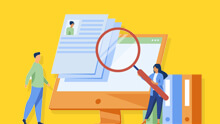 Looking For The Right Job??