What Is Application Maintenance? (+How To Become An Application Support Engineer?)
Today businesses are application driven and require seamless applications for the easy functioning of business processes. According to an IT survey, today a particular large enterprise spends up to 80% of their IT budget on support and maintenance of their existing systems. Application maintenance and support cost represents a huge proportion of organizations' IT budgets.

This is because of the fact that today applications play a crucial role in facilitating operations and solving prime challenges of business. The rapidly changing market dynamics need that businesses keep their applications up-to-date in order to gain an edge over the competition and witness growth in enterprise. So, innovative ways to application management are the need of the hour as applications should be continuously reinvented to suit the changing business strategies.

However, as software products increase in number and complexity, managing a whole application landscape turns into an actual challenge for organizations. And that's precisely the reason why the need for on-going professional application maintenance and support services provided by a competent Application Support Engineer to take adept care of a wide array of software solutions, varying in type, size and complexity is imperative for businesses today.

Well, do you want to become an Application Support Engineer? If you're… then keep on reading as this blog post will provide you with an in-depth understanding about what is application maintenance, the different advantages it offers, two most common types of services involved in application maintenance and support, why organizations choose application support and maintenance services along with the key duties, responsibilities, and skills to possess in order to get hired for the Role Of Application Support Engineer. So let's start…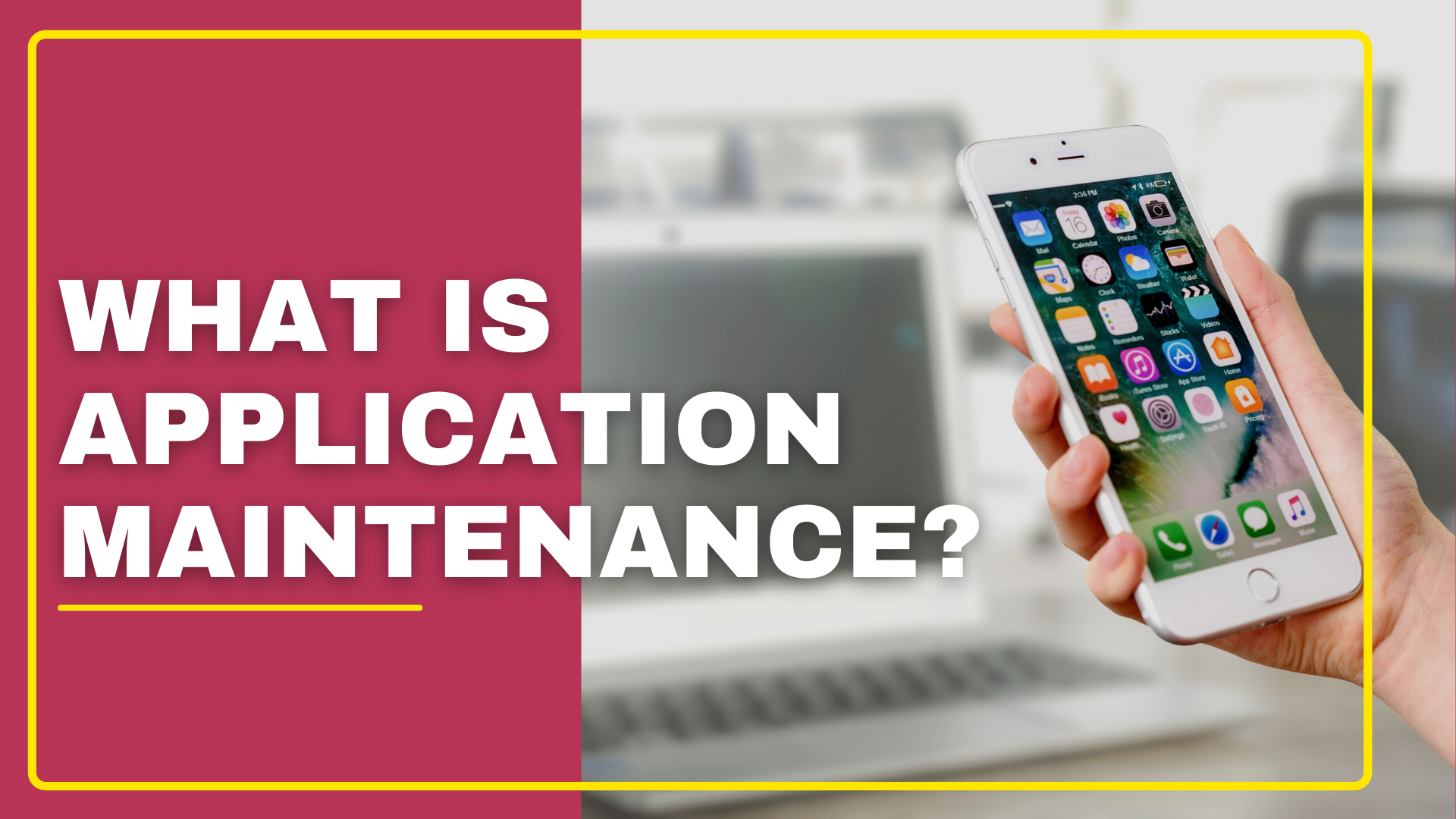 What is Application Maintenance?
Application Maintenance is the continuous updating, analyzing, modifying, and re-evaluating of your present software applications. This should be an on-going task to make sure your applications are constantly running to the best of their abilities. Due to evolving client expectations, the fight to survive in an existing market, and technological advancements, modifying and executing new strategies is vital in staying competitive and maintaining sustainability.

Let's take an example of your house. After buying or constructing it, do you simply neglect about it? Or think about budgeting your time and money for on-going utilities, repairs and renovations? Undoubtedly, the second one. The same concept is applicable for your applications.

Every competitive enterprise needs to continuously manage and enhance the IT solutions that have been developed in order to meet the wavering user's requirements and to stay relevant. This is where in picture application maintenance and support come into. Contrary to famous belief, application maintenance is not just concerning fixing defects, but modifying a software product after delivery to correct flaws, as well as to boost performance.

Application enhancement and maintenance to existing applications start with a thorough existing applications study to discover areas of enhancement.

Now that you're aware of how Application Maintenance Support is significant, you need to understand what the benefits are too. Listed below are few advantages of them: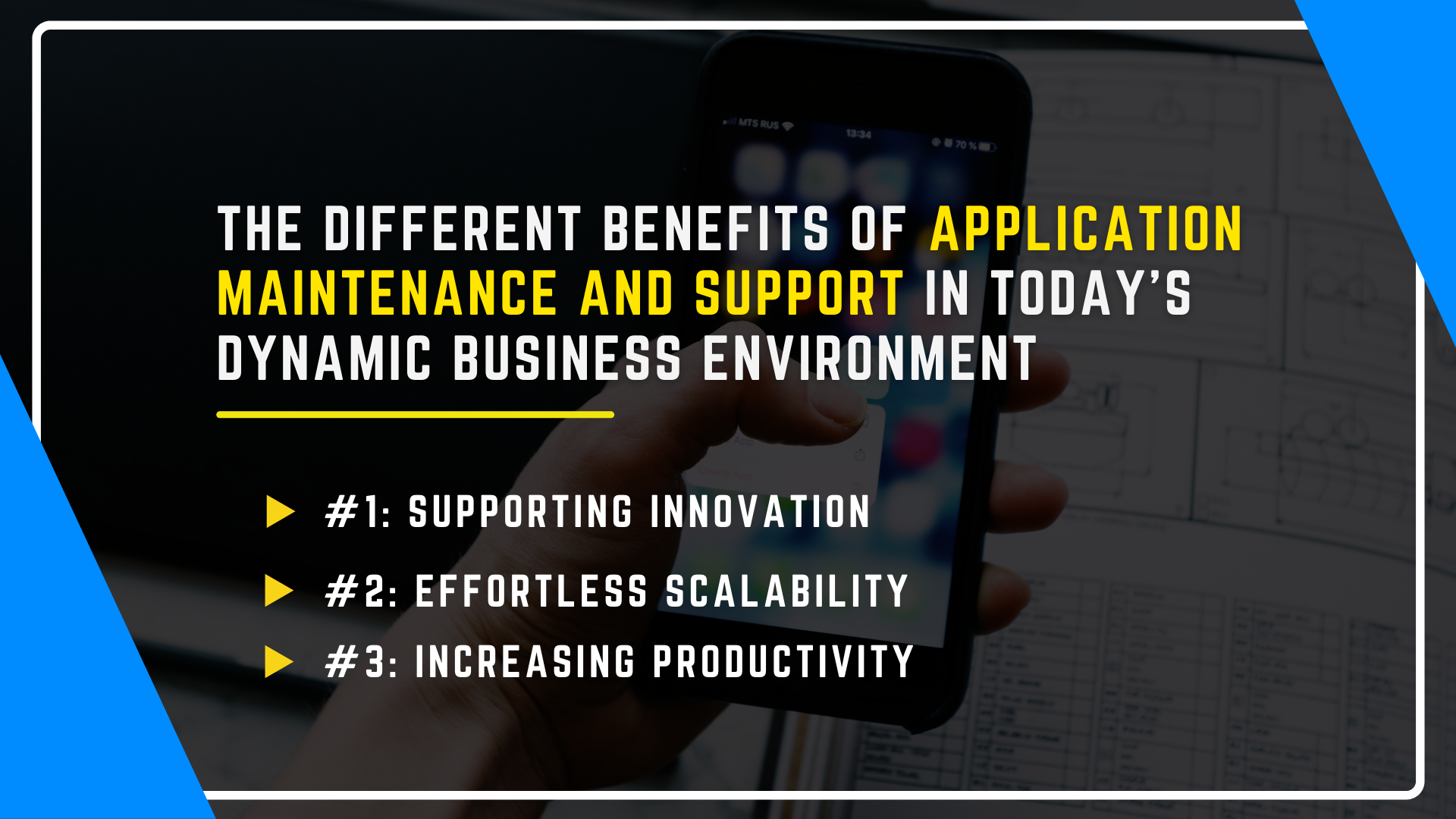 The Different Benefits Of Application Maintenance And Support In Today's Dynamic Business Environment
#1: Supporting Innovation
One of the biggest advantages of having Application Maintenance And Support Services is that it frees up an organization's resources that would have otherwise been used for the maintenance and upkeep of those applications and software.
Trusting a devoted service provider with this task makes sure that all of the applications are managed properly, looked after, and even improved from time to time. The enterprise no longer has to exhaust resources from its in-house development team on these tasks. The in-house team is hence freed up to pursue different projects, innovate on new products and operate in a more efficient manner overall.
#2: Effortless Scalability
A managed Application Maintenance Support service also permits for effortless scalability. Once your resources have been freed up to focus more on new innovations, there will in the end come a time when current products and services have to be scaled up.
The service provider can manage scalability for you via assigning more resources and adding more capacity to work on your services. This works the other way as well, in case you want to scale down, the service provider can adjust accordingly.
#3: Increasing Productivity
A proactive method to application management can offer a productivity boost. The IT team isn't split between having to work on new projects and upkeep tasks as well. If they're made to juggle different tasks at the similar time, there's a big possibility that their productivity across all of the different tasks will suffer.
Based upon the support infrastructure being utilized, the in-house team can be assisted through a user support team that answers queries, a technical support team that offers troubleshooting, and even a full-fledged development team that can help out with fixing bugs and problems to free up extra resources for the in-house team.
2 Most Common Types Of Services Within Companies Included In Application Support And Maintenance
Application Maintenance And Support Services are geared toward making sure that applications are highly available, dependable and stay relevant to current business needs.
Based on your applications, the two general approaches of application support and maintenance service are as follows:
Reactive application support – to resolve identified issues
Proactive application support – to timely detect emerging problems or prevent critical situations
Having said that, let's know…
Why Businesses Opt For Application Support And Maintenance Services?
In today's digital era, businesses are completely dependent on Web and Mobile applications.  Therefore, Application Maintenance Support appears to be a primary concern to get things going. Now, you must be thinking why should businesses do that? Well, let's dive deep then.
Think about the following issues:
Who takes care of your website, software and apps when they crash?

Who resolves the issue when they catch a bug?

Do you update your website, software or apps at the right time?

When your Website gets hacked, what will you do?
Most of the people outsource a good IT company to build their applications, post blogs on a daily basis and stop worrying about all else. That's it, right? No! certainly not. Some extra care is needed. A Deloitte report says that 60% of the outsourcers prefer to hire Application maintenance & support.
How Can You Get Hired For The Job Role Of Application Support Engineer?
What Is Application Support Engineer Job Description?
An Application Maintenance Engineer is an IT professional who offers technical support concerning a spectrum of software used within a particular business sector. Because of this broad definition, the core duties of an Application Support Engineer vary depending on the industry. Few Application Support Engineers are accountable for database management, whilst others put emphasis more on the application programming end. The specific focus is dependent on the business needs.
Generally part of an IT support team, to do their job well an Application Support Engineer requires both "people" skills and technical knowledge. Given how interwoven technology and the enterprise world have become, Application Support Engineers are employed internally by a number of agencies across a broad spectrum of industries. Application Support Engineers can also work for a company and have many different customers. When it comes to work environment, Application Support Engineers frequently collaborate with different team members, in addition to clients.
Application Support Engineer Responsibilities and Duties
Coordinate with teams and resolve every complex system and application problems.

Design and maintain expertise in flow of systems and application process related to agency.

Administer and resolve applications problems, offer updates and do root cause analysis.

Plan, execute books and implement configuration change procedures and applications to make sure optimal Quality assurance for every applications.

Develop, sustain and evaluate related applications and delegated business processes.

Supervise every alerts related to system procedures and application and offer services proactively.

Maintain good professional relationships with client support departments and counterparts of engineering.

Install and prepare tools needed for proper website front line applications functioning on daily basis.

Organize and execute projects ranging from small to medium size and offer aid to every processes under guidance of team Senior Engineers.

Do root cause assessment and debug every problems on server domain, and availability of applications.

Coordinate with departments and QA departments and administer code migrations in production outputs and different environments.

Provide support and determine every problems and prepare appropriate documentation all problems and solutions.

Manage every production system and suggest approaches to optimize performance and offer solution to issues and prepare reports for every issues.

Determine and offer resolutions ranging in complexity from medium to high.
Application Support Engineer Skills
A successful Application Support Engineer isn't your stereotypical anti-social tech person. In addition to owning a wealth of technical knowledge, they should also have the interpersonal competencies to help users of stated application.
Depending on our research, we determined the subsequent core skills one should own to acquire a job as an Application Support Engineer.
Working knowledge of Basic network configuration & SQL Databases

Working Knowledge of IT Hardware and Software

Ability to learn and master employer-specific software

Complex problem solving

Written and verbal communication skills

Ability to diagnose & address application issues
Required Education Qualification, Training and Work Experience
In order to acquire a job as an Application Support Engineer, one should first earn:
A bachelor's degree in computer engineering, computer science, information technology, information systems, software engineering, or similar.

Proven experience as an application support engineer in an associated field.

Advanced knowledge of front-end and back-end programming languages, like JavaScript, Python, C++, and Ruby.
As for professional certifications are not needed for employment, but there are number of options available. Apple, IBM, Amazon and Microsoft all have IT certifications that can be earned to make one more captivating in the job market.
Whereas the job experience to apply for the position mandates a candidate to have 0-2 years of work experience/internship in Application Maintenance.
Application Maintenance Engineer Salary (Expected Earnings)
The average salary for Role Of Application Support Engineer according to different job
Experience is as follows:
An entry-level Applications and Support Engineer with less than 1 year experience can expect to earn an average total compensation of ₹243,056 based on 20 salaries.
An early career Applications and Support Engineer with 1-4 years of experience earns an average total compensation of ₹320,386 based on 152 salaries.
A mid-career Applications and Support Engineer with 5-9 years of experience earns an average total compensation of ₹682,064 based on 60 salaries.

An experienced Applications and Support Engineer with 10-19 years of experience earns an average total compensation of ₹660,000 based on 11 salaries.
Higher earnings are possible, however, salaries vary significantly – based on the industry, size of the business, engineering discipline and location.
[Income figures are intended as a guide only.]
In technology, you are either enhancing yourself or you're falling back. Here, you can't just stand still. User needs are changing every day and if you don't have a regular maintenance strategy in place, you're lagging behind. Hence, Application Maintenance is important. Really important in businesses!
Being at the frontline of an engineering plant and dealing with all equipment maintenance requires a responsible and organised approach.
Are you planning to apply for Application Support Engineer Jobs? Well, if you still have doubts regarding the job position relevant to Application Maintenance, Start with a FREE ONLINE CAREER COUNSELLING.
The team of Counsellors and Mentors at MyCareerBuddha can help you choose a career path by building a proper career action plan that's well suited for you to reach your goals.
Hope that this blog post has helped you learn the key insights needed to become an Application Maintenance And Support Engineer. Good Luck in your Job Efforts!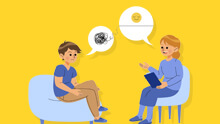 Take Career Free Counselling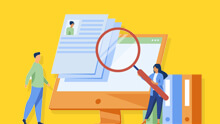 Looking For The Right Job??