Wish to make a career as an Accounting Executive?
Want to know what you do as an account executive?
If you are looking for overall guidance to succeed in this job profile, you are at the right place!!!
In this blog, you will get each essential information that will help you have a successful career in the accounting executive job profile. Read the blog till the end to understand this job profile and requirements to get it.
Now without any delays, let's get into it:
Accounting Executive job description
Account executives play a role in various fields such as advertising, marketing, information technology, fashion agencies, etc. It includes an intimate understanding of a client company's purposes and products and professional competencies to deliver practical guidance toward creating strategies and successful promotional activities.
The account executive directly takes services from the service provider and provides those services to one or more client company delegates. Keeps an ability to develop new relationships/ contacts quickly and beyond all else, confidence in the products and services they are offering.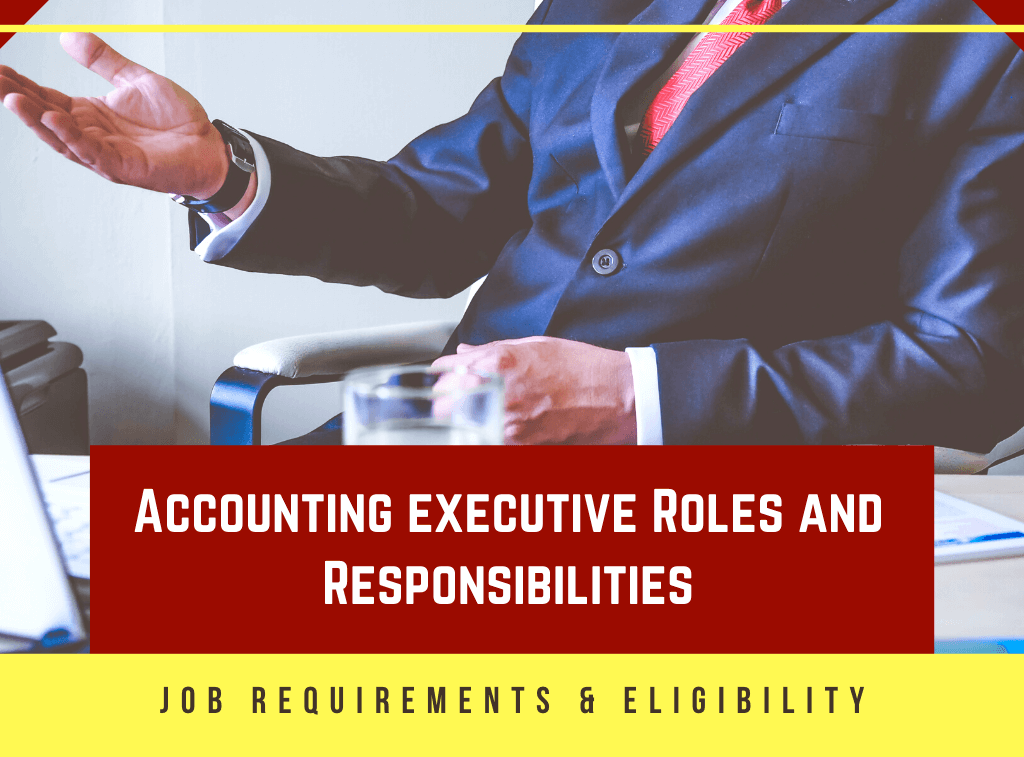 The role of an accounting executive is to develop sales and marketing strategies.
Serve support for clients by analyzing and satisfying their requirements.
Implement such sales strategies, which will increase the volume of business.
Manage a database of contact details.
For order processing, interact with customers and vendors.
Always makes cold calls to prospects and initiate follow-up services to customers.
Build plans to target new customer relationships.
Have to perform bookkeeping, general ledger functions.
Create a financial report and statements for the management.
Understand vendor balances.
To collect payments from customers, assist the marketing and sales team.
Try to compile and analyzing data to find trends.
To ensure requirements are being met, they follow up with prospects several times throughout the sales cycle.
Job Requirements
Eligibility
To apply for an account executive job, you need a Bachelor's degree. A degree could be in business administration, advertising, journalism, or marketing.
In some large scale companies, employers prefer that an applicant graduate with a Master of Business Administration (MBA).
There is no certification or licensing required to work as an account executive.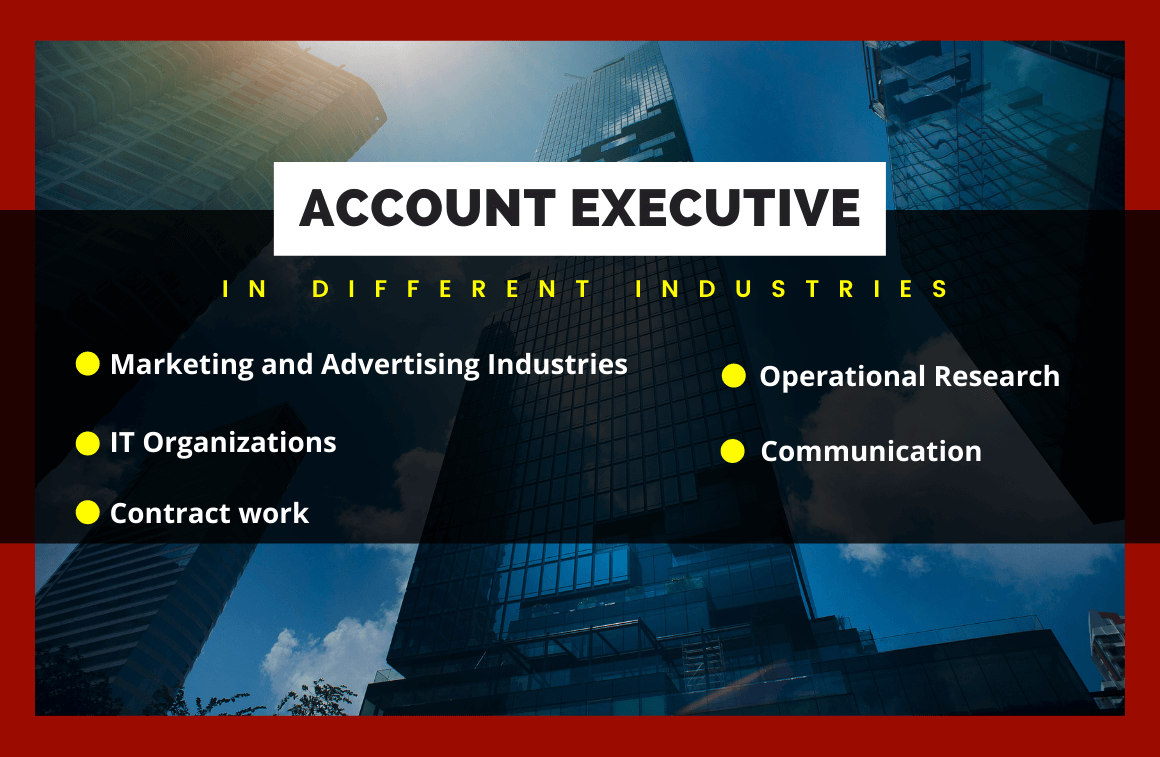 The account executive is a job profile in the advertising and marketing industries, IT organizations, and contracts that involve an intimate understanding of a client company's objectives, products, and professional capability. They serve as useful advice toward the creation of successful promotional activities and strategies. They directly work with and perform services to one or more delegate officers or executives of the client company.
Marketing and Advertising Industries
Account executives are generally responsible for client servicing and client acquisition in the marketing and advertising industries. They serve a direct link within the advertising agency or financial service organization and the existing client, handling daily affairs and ensuring customer/ client satisfaction.
They are also tasked with bringing more clients into the agency to boost revenue. They usually have 1-2 assistants and report to the respective account supervisor and the client service account director. This depends on the nation and on the account they are working for.
An account executive is a senior management role, interpreting reading of responsible for executing large contracts in IT (Information Technology) organizations. On a senior level, control of profit and loss is one of the significant activities, together with client/ customer alignment. Generally, they have one or more account manager staff to cover the different towers a large contract is mainly built of.
They directly or indirectly delegate work to project managers or the same team members who then direct the project management features.
In an ideal situation, they and part of the staff will be included in new contract negotiations. This could be for a similar account or a new customer. As soon as the contract is signed, the executive and staff will be directly up to speed.
Operational research is an analytical process of issue solving and decision-making that is useful in the management of the company. This job profile individual utilizes mathematical expertise and analytical procedures to help businesses and company solve problems and make decisions. Work with teams of individuals with knowledge in various disciplines to solve complex problems.
Communication industry executives plan and direct communications programs. This effectively describes and promotes the organization and its products. Top-level communication executive permits promotional campaign ideas in different media kinds and counsels top management on successful communication strategies.
Professional Requirements of Accounting Executive
Some of the professional requirements of the accounting executive job profile are as follows:
Proven work experience as an Account Executive or similar customer/sales service role
Good knowledge of sales, market research, and negotiating principles
Excellent knowledge of CRM and MS Office software
How to implement time management and organizational skills
You must know are It is mandatory for you to learn the basics of computers like MS-Office, MS-Excel, and PowerPoint along with Tally.ERP. Really do you want to upgrade your skills at a low cost?

Upgrade your skills for free. Subscribe now on Hrishi Online Buddhi and get instant access to MS Office Bundle Course.
IT Skill Set
To become or apply for the account executive job, you must possess knowledge of programs including software like PowerPoint, MS Office, Excel, and CRM.
Non-IT Skills Set
Account Executives need a broad range of skills to do their jobs successfully. Let's see what those skills are:
Communication skills – Executives are, above all, excellent communicators. They are the primary point of contact between the agency or company and the client. They have to be able to fluent the company's vision and brand to their team to meet the client's requirements. They must also be able to communicate ideas and concepts in a convincing way that engages the media and the client's target audience.
Negotiation Skills – Regardless of whether they are negotiating another customer contract or reconsidering a current customer deal, solid negotiating abilities are an unquestionable requirement for those in an account executive job.
Sales Expertise – The accounting executive is importantly a salesperson. They are required to adequately pull in customers and convince the customer to hire their organization's administrations by guaranteeing them that their necessities will be met successfully. So their sales skills have to be sharp.
Project Management Skills – They must be able to track and execute deliverable across timelines as account executives are responsible for managing multiple client accounts.
Customer Service Skills – For any accounting executive, the client is their priority. Their job is to make clients happy, which needs to be invested in customer service and satisfaction. The executive's execution of the client's vision is what will make sure the business relationship continues.
Leadership Skills – Accounting executive often tasked with managing a team of junior and mid-level account executive. With this in mind, they should have some leadership experience or a willingness to participate in management training to clarify their leadership skills.
Problem-solving Skill – They need to be creative, effective problem-solvers, whether they are on point for helping a client resolve an issue or need to handle a personnel matter on their own team.
Analytical Skills – Account executives are often tasked with working with sales leaders to set and track proper targets for their team. Therefore, they must read and interpret related data to understand their team's performance and suitable forecast goals.
Strategic Planning and Attention to Detail – They have great strategy abilities. In order to market them effectively, and no two clients are the same, they must assess the individual needs of each client. They can recognize the fine differences in the strategy that make a campaign work for one client but not for another.
Interpersonal Skills – Strong interpersonal and communication skills are a must for an accounting executive job. This job profile also implies very strong speaking and writing skills. At the same time, excellent customer service skills and public speaking skills are also needed.
Professional Skills – an individual with this job must have excellent business sense, as well as knowledge of the latest marketing and advertising trends. High expertise with numbers and budgets are also needed. While a specific proportion of certainty and affability help support the relationship, this expert has customers.
Abilities – You must be able to learn quickly and implement that knowledge. Individuals can work in a team environment. Then able to do multitasking and work efficiently and successfully to meet needed deadlines.
Schedule
Almost all account executives work full-time, i.e., 8 am to 5 pm. They may be expected to appear early for clients in various time zones or work late to meet strict deadlines. Hours are ordinarily reliable consistently, however relying upon the customer, more work might be essential at times.
Most account executives work in offices, as well as many travel for client meetings. The growth technology has lower the requirement for face-to-face communication, yet, a few organizations still send them to meet with clients in person, especially for meaningful discussions. They often hold daily meetings to update company management and related teams on project and client expectations. This role is suitable for high-energy individuals who enjoy working with others and solving problems.
Job Outlook
Despite most account executives having a quite decent salary, some barely make the minimum wages. However, with an average salary of around RS.10000-20000 per month, most people tend to move on to other positions after working 20 years or more on the job as some jobs pay more than others. It seems career opportunities for individuals account executive job description are expected to increase 9% until 2024 it is a little faster than the average for all occupations.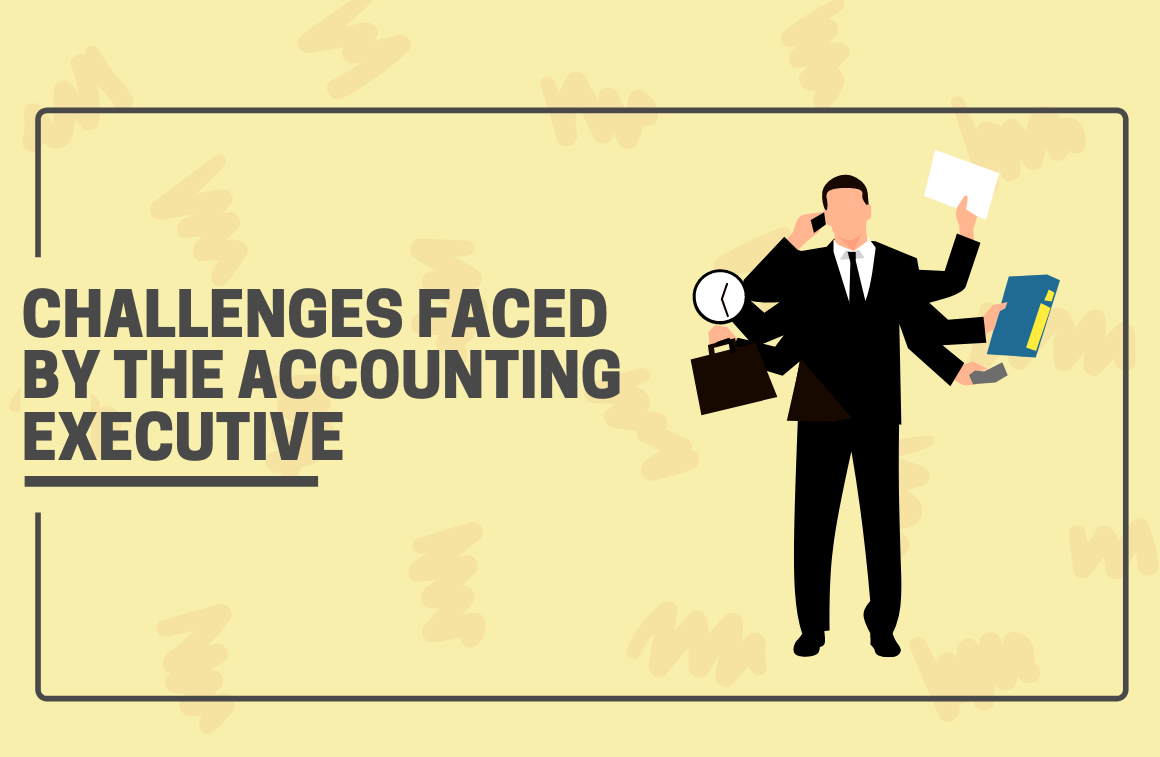 As much as you love your profile work, after some time, the duration challenges of being an accounting executive can be challenging. Following are some of the main challenges faced by the accounting executive:
It is very often accounting executive profile consists of repetitive work. You will have to work with a little bit of repetitive work.
As an executive, you need to be fully prepared to put in long hours at your desk. Sometimes the workload is high, and due to this, sometimes you will actually put in more than 75 hours every week.
When you represent accounts, you are not the only one in the reckoning. This applies to almost every job profile of accounting, so it should not be something that is unique to accountants. Sometimes you will be multitasking at times, and you will defiantly feel a bit overworked.
You always need to be in sync with the latest developments. It very much includes inefficiency.
There is no real way around deadlines as a missed deadline can result in punitive actions on your clients. Also, it can see you lose clients and can see clients lose revenue.
Detail orientation is a must, and you need to have an eagle eye for detail. There will be a whole load of background information that required to be considered to help your client.
What package can you expect ?
A salary package of an account executive ranges from 10,000 to 20,000 per month. In this type of job profile, they also get incentives as per the performance. The range of salary varies from industry to industry, location, skills. Your skills play a major role. So work hard on your skills to get a good incentive.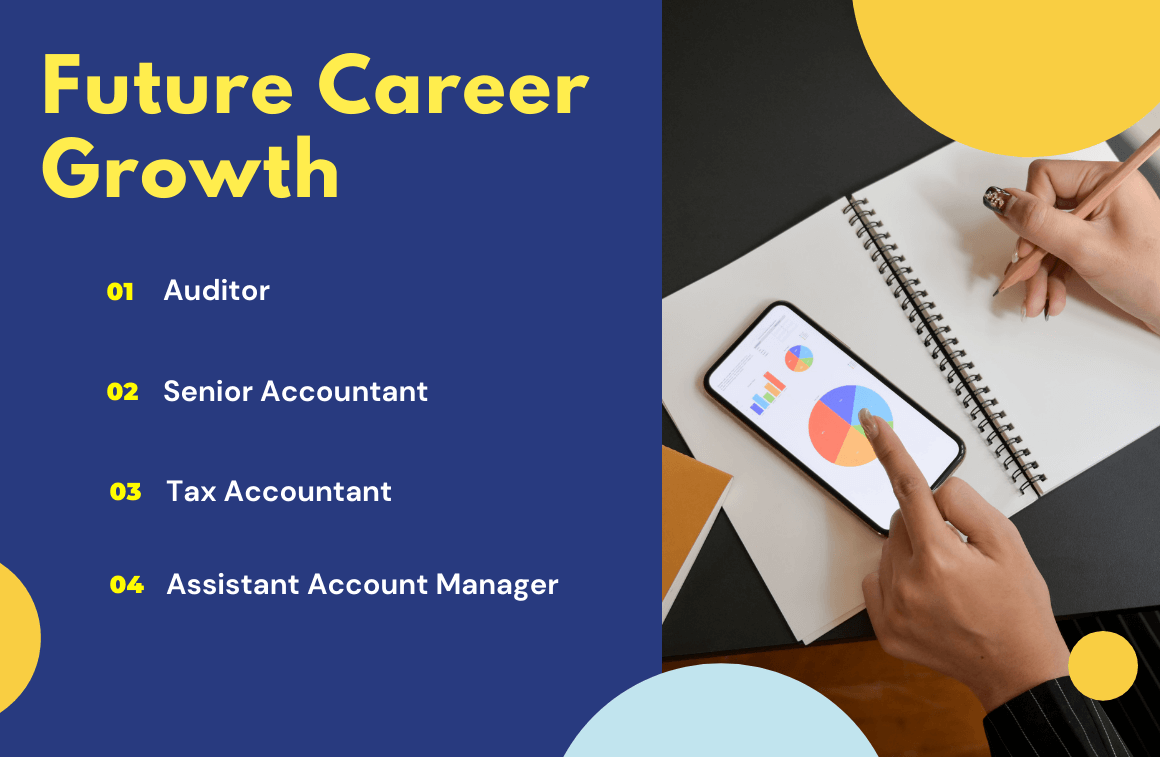 After some years of appropriate experience in this job role, an individual can progress to other jobs in the field of accounting. How rapidly and far you progress in your career will rely upon the level of involvement you acquire and the accomplishment of your missions. Moving among organizations and working for a few distinct customers can help you progress all the more rapidly, so portability and adaptability are significant in building your profession. The individual can go for the following job profiles:
1. Auditor – It is a person or a firm assigned to perform an audit on a company. An audit is a structured, methodical process that consists of an examination of accounts, records, or various documents. It can be on any topic. An auditor examines the financial statements of an organization. They perform the examination in order to confirm that all reports are accurate and documents are free from misstatement. Such misstatements can take place when the financial statements are inaccurate because of fraud or error.
2. Senior Accountant – Senior accountant job profile includes jobs like report costs, margins, expenditures, and productivity for corporations and organizations. They generally work alongside junior accountants who perform administrative activities like updating journal entries, collecting data, and balance sheet. They make sure the integrity of accounting data by recording, verifying, merging, and entering transactions.
3. Tax Accountant – Tax accountants are accountants that specialize in the laws, rules, and regulations for the preparation and calculation of federal, state, and local taxes. They work with clients to generate tax return documents that follow tax laws and regulations. Tax accountants keep their clients updated on their return information, and work with them before tax time. They do this to derive a plan that will help them reach their desired financial goals and outcomes.
4. Assistant Account Manager – They are responsible in abundance because there is a lot of work relevant to accounts and finances. All the work responsibility is a transfer on the assistant account manager, who then takes care of all the money transactions, financial records, and accounts in the account manager's absence. This job profile is wide and needs a lot of hard work.
Want to become an expert in Finance and accounting?? Finding a way to start with??
Then you must look for some skilled courses…
Skills courses are essentials for leading competitive advantages!
It increases employment opportunities within competitors as employers need skilled employees to work efficiently.
HRISHI ONLINE BUDDHI – No. 1 Platform to Learn Online is offering various Industry-Diploma in Business Accounting, Taxation and Reporting | 5 Courses