As the technology continues to advance, the traditional offline exam (pen and paper exam) is being interchanged with a newer online mode exam. The feature of conducting online exams was introduced a few years back. To date very specific competitive exams used to hold online. But due to the COVID-19 pandemic all the academic and non-academic exams are adopting the online mode all over India. No matter for which exam you are appearing, due to safety issues it is mandatory you have appeared in online exams. 
Online Exams are completely different from offline (Pen and Paper) exams. It includes numerous advantages for organizers of the test as well as the candidates writing it. Additionally, it considerably reduces the cost of print and paper. The major advantage of online exams is that they are highly customized, extremely confidential and there is no chance to get leakage. This avoids re-scheduling of question papers and provides the user to select the option of dates and time period.
Taking online exams can present some challenges, so students must create a test-preparation strategy that works best for them. Here are 8 essential tips for taking online exams which will help candidates to give successful online exams.
Tips for Online Exam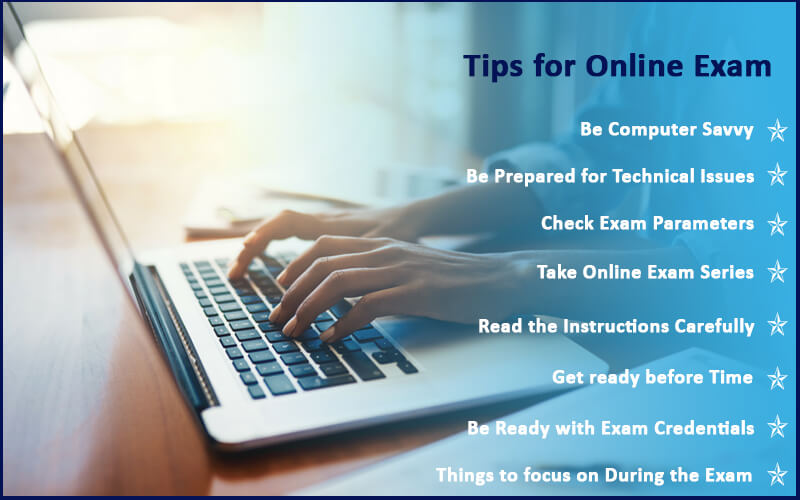 As the practice of online exams is relatively new, it is very common for students to make mistakes while taking one. To help you face the exam more effectively, Hrishi Blog Buddhi brings you a few tips that you should remember while appearing for an online exam.
If you are not very comfortable handling a computer/ laptop, then start getting there. Before taking the test, spend more and more time with computers daily. This will definitely help to manage time while taking the exam. Looking for a cursor or having difficulty in managing the mouse seems really small things but these are time-consuming during the exam.
Be Prepared for Technical Issues
Though technology is extremely beneficial, sometimes it can be a big obstacle. One of the major neglected aspects of online exam taking is making sure the computer is well-equipped. Before appearing for your online exam, create a checklist of all the potential and common technical issues that could occur, and make yourself ready to tackle them. For which common and potential technical issues you must look for:
Is the computer/ laptop fully charged?
Are pop-up blockers disabled on the device?
Is the Wi-Fi connection stable before the exam?
If all the answer to these questions is YES then you are good to go!
Before starting an online exam, you must know the boundaries of the test and how it is given. If you are appearing Online Exams during lockdown for the first time then you must read over the given exam pattern or need to reach out to your professor to gain knowledge about the parameter of the online exam. Ask your professor:
When is the exam given?
How long does it take?
Can we leave the test window once we start it?
Can you skip/ leave questions and return to them later?
Knowing your exam boundaries serves a big part in online exam preparation and it helps to avoid the stress.
To excel in the exam, before you take the scheduled test, get experience by attempting some online exam series/ examples. This will be extremely beneficial as it helps to give a hands-on experience of the exam. This will take away the intimidation factor and enable you to finish the test before the time limit. It gives you extra time to review the paper.
Read the Instructions Carefully
Before every online exam, you always get an instructions page with some mandatory to do and not-to-do list. Most of the students skip this reading but it shouldn't be as it reminds you about the instructions just before the exam. It helps to prevent you from making common mistakes.

If your exam is on a specific center then you must reach it before the exam time and if you are appearing from your place then get ready before the exact exam time to avoid the last-minute rush. This tip is very essential for those aspirants taking the online exam for the very first time. Reaching the exam or getting ready before the exam time will help you prepare yourself for the exam.
Be Ready with Exam Credentials
Exam credentials include user id, login id, or your hall ticket for the exam. If your exam is scheduled on a particular center then it is very important to carry your hall ticket as without it you won't be able to appear for the exam. And if you are about to take an exam from your home itself then you must know your login credentials as without it you won't be able to start your exam. Keep your hall ticket in your bag prior to one day of the exam or write your login details on the place which is very much visible to you.

Things to focus on During the Exam
Check your computer before you start with the exam and make sure that the computer assigned or belongs to you is working fine.
Keep an eye on the clock or set an alarm to notify you when you have limited time such as the last 10 minutes of the exam.
Do not leave the test page as you may lose all your work. If you are granted to search the web or check other websites for information, open a second copy of your browser or select a completely different browser to conduct your search.
Before answering every question wait for a full download of the page. If you neglect this thing and try to click in a hurry it creates a chance to lose a few questions. And if you attempt an incomplete paper your performance will be affected and you will score less.
Set the deadline for each question as it does not have invigilators warning candidates about the time left. Therefore set a time limit for every question and try to cover all questions in the given time. Having a specific time for every question reduces the anxiety of running short of time.
Do not go for one time to save the whole exam paper, save you each answer after marking the options. As if the system does not save your answer automatically, your questions might remain un-attempted which causes failure. As well as in case of making changes to answers must click the save button once done.
If you have technical issues then don't panic. Be calm and immediately contact your instructor, explain the exact issue that occurred, and if any error messages you might have received.
Do not forget to check your whole work before you submit it. Make sure that each and every answer is complete and looks as you have written or selected. And if you complete your exam before time then review the accuracy of your answers.
You should only need to click the submit button. But if you have an issue in submission then try once more, yet facing problems submitting the test, contact your instructor immediately.
The Bottom Line for Online Exam
Exams\ tests are an unavoidable part of the educational system. With growing technologies and increasingly competitive educational landscape, it is necessary to keep up with the times. An online examination automates, digitizes, and knocks down the process to become more accessible, inclusive, and accurate compared to its previous avatar.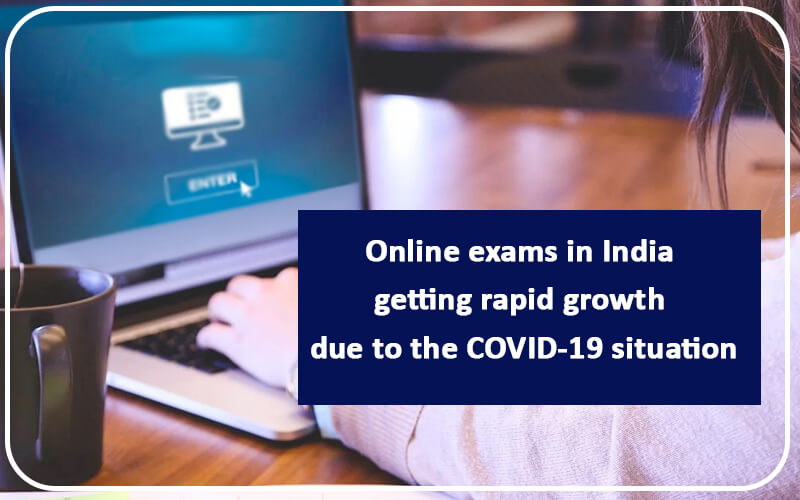 Online exams in India are getting rapid growth due to the COVID-19 situation. Therefore how to prepare for online exams is the big question among the students. As it is completely different from pen and paper tests. Though online exam taking has its own challenges. On a good note above tips for online exams for students will help them to get prepared and do well in the exam.
To help you in taking online exams we've shared 8 essential tips!
Need a lesson from home hack to brush/boost you up for your online exam? Then you will definitely like learning with HRISHI ONLINE BUDDHI- No. 1 Platform to Learn Online. It provides various IT Courses Online under the guidance of our experts. What's more, apart from this YOU also get a Course Certificate after course completion which is valid all over India.
Interested??? Visit www.hrishionlinebuddhi.com